27.09.2018 | themenschwerpunkt | Ausgabe 1-2/2019 Open Access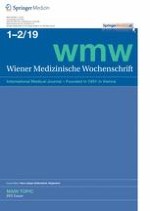 Darstellung und Lokalisation von Nebenschilddrüsenadenomen mit F‑18 Cholin PET/CT
Zeitschrift:
Autoren:

Gregor Schweighofer-Zwink, Lukas Hehenwarter, Gundula Rendl, Lukas Rettenbacher, Werner Langsteger, Mohsen Beheshti, Christian Pirich
Zusammenfassung
Grundlagen
Die Nebenschilddrüsenszintigrafie nimmt neben der Sonografie einen wichtigen Stellenwert in der präoperativen Lokalisationsdiagnostik von Nebenschilddrüsenadenomen ein. Der nuklearmedizinische diagnostische Standard ist bislang die Technetium-99m-Sestamibi-Szintigrafie. Der Einsatz der Positronenemissionstomographie/Computertomographie (PET/CT) mit Markern des Phospholipidmembranmetabolismus (F-18 Cholin) verspricht auf Basis erster Studien höhere Genauigkeit für die Aufarbeitung des primären Hyperparathyreoidismus als die konventionelle MIBI-2-Phasen-Szintigrafie in planarer, SPECT oder SPECT/CT Technik. Diese Übersicht fasst die Ergebnisse jener Studien zusammen, die mit F‑18 Cholin PET/CT durchgeführt wurden.
Methodik
Es wurde eine selektive Literaturrecherche in PubMed mit den Stichworten "primary hyperparathyroidism and choline", "primary hyperparathyroidism and PET", "parathyroid adenoma and choline" und "parathyroid adenoma and PET" durchgeführt.
Ergebnisse
Es wurden 6 Studien, die den Einsatz der F‑18 Cholin PET/CT beim Hyperparathyreoidismus evaluierten, identifiziert. Diese schlossen 5 bis 151 Patienten ein. Die Studien belegen, dass die Cholin PET/CT hohe Nachweisraten (80 bis 96 %) für solitäre Nebenschilddrüsenadenome aufweist. Vorteile des Verfahrens sind die hohe Sensitivität auch bei Rezidiveingriffen oder gleichzeitig bestehenden Knotenstrumen, sowie eine exakte anatomische Zuordnung auch von atypisch gelegenen Adenomen.
Schlussfolgerungen
Die Cholin PET/CT ermöglicht bei der Mehrzahl der Patienten mit pHPT eine exakte Lokalisation solitärer Nebenschilddrüsenadenome und führt zu einer Verbesserung der präoperativen Lokalisationsdiagnostik. Daraus folgt ein möglichst minimal-invasives chirurgisches Vorgehen mit verringerter Komplikationsrate bei gleichbleibender Erfolgsrate. Die Bewertung der Erfassung der Genauigkeit bei Mehrdrüsenerkrankungen bedarf weiterer Studien.