01.03.2016 | original article | Ausgabe 5-6/2016 Open Access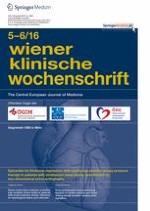 Abnormal maternal echocardiographic findings in triplet pregnancies presenting with dyspnoea
Zeitschrift:
Autoren:

MD Marie Elhenicky, MD Klaus Distelmaier, MD Mariella Mailath-Pokorny, MD Christof Worda, MD Martin Langer, MD Katharina Worda
Summary
Objective
The objective of our study was to evaluate the prevalence of abnormal maternal echocardiographic findings in triplet pregnancies presenting with dyspnoea.
Study design
Between 2003 and 2013, patients' records of 96 triplet pregnancies at our department were analysed including maternal and fetal outcome, echocardiographic parameters and N-terminal pro-B-type natriuretic peptide (NT-proBNP) levels. After exclusion of triplet pregnancies with fetal demise before 23 + 0 weeks, selective feticide or missing outcome data, the study population consisted of 60 triplet pregnancies. All women with dyspnoea underwent echocardiography and measurement of NT-proBNP.
Results
Dyspnoea towards the end of pregnancy was observed in 13.3 % (8/60) of all women with triplet pregnancies, and all of these women underwent echocardiography. The prevalence of abnormal echocardiographic findings in women with dyspnoea was 37.5 % (3/8) with peripartum cardiomyopathy in one woman. Median serum NT-proBNP was significantly higher in women with abnormal echocardiographic findings compared with those without (1779 ng/ml, range 1045–6076 ng/ml vs 172 ng/ml, range 50–311 ng/ml;
p
 < 0.001 by Mann-Whitney-U Test).
Conclusion
We conclude that triplet pregnancies presenting with dyspnoea show a high prevalence of abnormal echocardiographic findings. Since dyspnoea is a common sign in triplet pregnancies and is associated with a high rate of cardiac involvement, echocardiography and evaluation of maternal NT-proBNP could be considered to improve early diagnosis and perinatal management.