01.06.2017 | original article | Ausgabe 11-12/2017 Open Access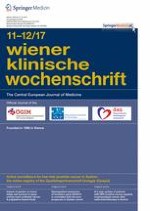 A 5‑year update of patients with HPV positive versus negative oropharyngeal cancer after radiochemotherapy in Austria
Zeitschrift:
Autoren:

MD, PD Associate Professor Claudia Lill, Prof. Barbara Bachtiary, Prof. Edgar Selzer, Prof. Martina Mittlboeck, Prof. Dietmar Thurnher
Introduction
The development of squamous cell carcinomas of the head and neck (SCCHN) is mainly caused by commonly known risk factors including alcohol and tobacco abuse. In the last 15 years human papilloma virus (HPV) infections became recognized as a major risk factor for oropharyngeal cancer [
1
–
3
]. The prevalence of SCCHN with over 500,000 new cases per year worldwide is high [
4
], whereas the incidence of pharyngeal carcinoma is approximately 136,000 and oropharyngeal cancer is on the rise [
5
]. In Austria, the incidence of head and neck cancer increased from 567 newly diagnosed carcinomas in 1983 to 1085 head and neck cancer patients in 2012, while 418 patients with head and neck carcinomas died related to the disease in 1983 and 493 patients in 2014 [
6
]. A marked increase in the incidence of oropharyngeal cancer has been observed in the last decade in Austria [
6
] and other countries [
7
,
8
]. At the same time HPV positivity increased 2.9 fold in the USA [
7
] and in Europe [
8
]. The incidence of oropharyngeal carcinoma predominantly increased in younger patients and in this patient collective especially in male patients, probably because of the higher prevalence of HPV in cervical than in penile tissue [
9
,
10
], transmitted by orally performed sexual contact [
10
]. Recently, HPV detection in biopsies of head and neck cancer taken during routinely performed panendoscopy became routine practice. On average, 23.5% of oral cavity cancers, 24% laryngeal, 36.5% oropharyngeal and approximately 50% of tonsil carcinomas are HPV positive [
1
,
9
] and we and others experienced that patients with HPV positive oropharyngeal cancer show a better outcome concerning response to treatment, overall and disease-free survival.
At present, no recommendations for modification of therapy exist, but there are de-escalation studies, e. g. replacing cisplatin by cetuximab in HPV positive patients [
11
,
12
]. Another study consists of an induction chemotherapy with docetaxel, cisplatin and 5‑FU. In the case of a response, a reduced dose of radiotherapy plus/minus chemotherapy is administered, in the case of stable or progressive disease standard radiochemotherapy is performed [
13
,
14
].
In the present manuscript we present the current results of disease-specific overall survival and disease-free survival of HPV positive versus negative patients with cancer of the oropharynx treated with radiochemotherapy or radioimmunotherapy in the years 2007–2009.
Patients and methods
The study presented in 2010 was performed as a retrospective analysis [
9
]. All patients with oropharyngeal cancer who refused surgical treatment or where the tumors were locally unresectable (T4b, non-resectable according to the UICC/AJCC classification [
9
]) were included in the study. For this analysis, 88 patients with SCCHN were screened for HPV during routinely performed panendoscopy between 2007 and 2009. A HPV multiplex PCR (polymerase chain reaction) and an anti-HPV in situ hybridization as well as a routinely accomplished histological examination were carried out earlier [
9
]. Of these 88 patients, 45 had their tumor localization in the oropharynx, of these 30 underwent conservative treatment comprising radiotherapy, radiochemotherapy or radioimmunotherapy. This patient collective consisted of 18 HPV negative and 12 HPV positive patients. One patient was excluded from the study due to a severe HIV infection. The detection of HPV by PCR and in situ hybridization was previously published elsewhere [
9
].
Radiotherapy, chemotherapy and immunotherapy
The regimen was published previously and therapy was decided in an interdisciplinary tumor board with respect to the patients request, performance status and comorbidities. The radiation therapy was administered as a standard fractionation at 2 Gy/fraction/day for 5 days per week to 70 Gy/35 fractions/7 weeks or with accelerated fractionation with concomitant boost at 1.8 Gy/fraction/day, 5 days/week and 1.5 Gy/fraction/day to a boost field as a second daily treatment for the last 12 therapy days to 72 Gy/42 fractions/6 weeks [
9
].
In the case of radiochemotherapy, patients received cisplatin in a dosage of 100 mg/m
2
every 3 weeks for the duration of radiotherapy to a cumulative dose of 300 mg/m
2
. Patients who were not eligible for chemotherapy (reduced performance status, elderly patients >70 years, impaired renal function) received immunotherapy consisting of cetuximab 400 mg/m
2
initial dose 1 week prior to irradiation and a weekly dose of 250 mg/m
2
for 7 weeks. In three cases, patients received radiotherapy alone because of reduced performance status, age and impaired renal function. One patient was not treated at all for cancer as treatment was refused and the patient died 3 months after the initial diagnosis [
9
].
Statistical analysis
Statistical evaluation was performed as previously described [
9
] but for convenience, the description will be reprinted. Kaplan-Meier curves represent the survival data and differences between the curves are tested with log-rank test. All deaths, independent of their cause, were considered as events for overall survival. The disease-specific survival describes only deaths concerning the underlying disease and observations with deaths unrelated to disease were censored at the time of death. For disease-free survival all recurrences of the carcinoma were considered as events [
9
]. The disease-specific overall survival delineates the main outcome parameter, as second outcome parameter we considered disease-free overall survival. All
p
-values are two-sided and
p
≤ 0.05 was considered significant. All calculations were performed with SPSS (PASW Statistics, New York, NY. Version 21.0.0.0).
Results
In this study 30 patients with oropharyngeal cancer including carcinomas of the tonsils and base of the tongue were treated with radiation, radiochemotherapy or radioimmunotherapy in the years 2007–2009 and were retrospectively evaluated. One patient presenting with a T4 HPV positive carcinoma of the tonsils was excluded from evaluation because of a severe HIV infection and subsequent complete change of the therapeutic regimen. The median age at time of therapy was 62 years (range 46–89 years) [
9
]. The patient collective included 19 male and 10 female patients, of these 6 patients are still alive and 23 have died. Of the patients who died 7 were HPV positive and 16 HPV negative [
9
]. Among the HPV positive patients, one patient died due to carcinoma, while six died of other causes including pneumonia, myocardial infarction, dilated cardiomyopathy and apoplectic stroke (Table
1
). Of the patients with HPV negative carcinoma of the oropharynx, 15 died of disease and 1 died because of a colon perforation while presenting evident oropharyngeal carcinoma formations.
Table 1.
Causes of deaths in HPV positive versus negative patients
HPV+

HPV−

Mean age (years, range)

62 (49–89)

62 (46–82)

Male/female

9/2

10/8

Apoplexy

1

–

Myocardial infarction

2

–

General condition

1

–

Pneumonia

1

–

Cardiomyopathy

1

–

Colon perforation

–

1

Tumor-related death

1

15

Alive and well

4

2
All patients received radiation in combination with immunotherapy (cetuximab), chemotherapy (cisplatin) or radiation alone [
9
]. Regarding tumor stage of patients, 6 patients presented with T2 stage, 2 with T3 and 21 with T4, while HPV positive patients collective comprised 6 with T2, 1 with T3 and 4 with T4 and HPV negative included 1 with T3 and 17 with T4 tumors [
9
]. After a period of 5 years the overall survival of all patients was not significantly enhanced in the HPV positive group (
p
= 0.190) due to a high rate of non-disease-related deaths (
n
= 6) (Fig.
1
). After censoring the patients who died of other causes [
9
], the disease-specific overall survival was calculated. The disease-specific overall survival of patients with HPV positive oropharyngeal carcinoma was significantly better than in patients with HPV negative tumor (
P
= 0.002) (Fig.
2
).
×
×
The time to first event, recurrence of death of any cause was significantly improved in patients with HPV positive oropharyngeal cancer (
p
= 0.042). After censoring non disease-related deaths of patients, the disease-free survival was highly significant (
p
< 0.001) (Fig.
3
).
×
Considering only patients with T4 tumors, they are subdivided into 4 patients with and 17 without HPV positivity. Significant differences could be observed for both disease-specific overall survival of T4 tumors (
p
= 0.042) as well as disease-free survival (
p
= 0.016) (Fig.
4
).
×
The 5‑year disease-specific overall survival was 85.7% in patients with HPV positive versus 11.1% in HPV negative tumors.
Discussion
The present evaluation was based on the same patient collective and a re-evaluation was performed 5 years after patients started radiotherapy with or without chemotherapy or immunotherapy for oropharyngeal cancer. All patients were tested for HPV. Only the 29 patients evaluated in the first publication were updated at the present study, which surely limits the conclusion of our analysis as we present a small group of patients.
Concerning the outcome, we could not find differences in patients receiving immunotherapy versus chemotherapy. In the HPV positive patient group, seven patients received radioimmunotherapy, two patients each radiotherapy alone or radiochemotherapy. The patients presenting with HPV negative tumors were treated with radioimmunotherapy in seven cases, radiochemotherapy in nine and radiotherapy in one case. One remaining patient refused therapy at all. Interestingly, radiochemotherapy was administered more often in the HPV negative group in our patient collective. Nevertheless, it was a retrospective analysis and at the time of therapy no recommendations for de-escalation of therapy existed.
Open access funding provided by Medical University of Vienna.
Conflict of interest
C. Lill, B. Bachtiary, E. Selzer, M. Mittlboeck, and D. Thurnher declare that they have no competing interests.
Open Access
This article is distributed under the terms of the Creative Commons Attribution 4.0 International License (
http://​creativecommons.​org/​licenses/​by/​4.​0/​
), which permits unrestricted use, distribution, and reproduction in any medium, provided you give appropriate credit to the original author(s) and the source, provide a link to the Creative Commons license, and indicate if changes were made.