09.12.2020 | original article | Ausgabe 7-8/2021 Open Access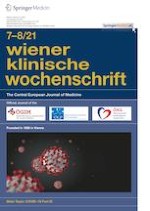 6-month SARS-CoV-2 antibody persistency in a Tyrolian COVID-19 cohort
Zeitschrift:
Autoren:

MD Florian Deisenhammer, MD Wegene Borena, Angelika Bauer, PhD, MD Janine Kimpel, Dagmar Rudzki, Kathrin Schanda, PhD Jonas Egeter, MD Katharina Hüfner, MD Barbara Sperner-Unterweger, PhD Markus Reindl
Wichtige Hinweise
Publisher's Note
Springer Nature remains neutral with regard to jurisdictional claims in published maps and institutional affiliations.
Summary
Background
As coronavirus disease 2019 caused by severe acute respiratory syndrome coronavirus 2 evolved only recently, the persistency of the anti-viral antibody response remains to be determined.
Methods
We prospectively followed 29 coronavirus disease 2019 cases, mean age 44 ± 13.2 years. Except for one participant with a pre-existing diagnosis of rheumatoid arthritis, all other participants were previously healthy. We determined anti-viral binding antibodies at 2–10 weeks, 3 months, and 6 months after disease onset as well as neutralizing antibodies at 6 months. Two binding antibody assays were used, targeting the S1 subunit of the spike protein, and the receptor binding domain.
Results
All participants fully recovered spontaneously except for one who had persisting hyposmia. Antibodies to the receptor binding domain persisted for 6 months in all cases with a slight increase of titers, whereas antibodies to S1 dropped below the cut-off point in 2 participants and showed a minimal decrease on average, mainly at month 3 of follow-up in males; however, neutralizing antibodies were detected in all samples at 6 months of follow-up.
Conclusion
There is a stable and persisting antibody response against acute respiratory syndrome coronavirus 2 at 6 months after infection. Neutralizing antibodies confirm virus specificity. As the number of coronavirus disease 2019 convalescent cases is increasing sharply, antibody testing should be implemented to identify immunized individuals. This information can be helpful in various settings of professional and private life.