01.06.2013 | short review | Ausgabe 2/2013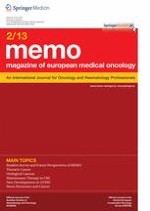 The Austrian Competence Network on Mastocytosis (AUCNM): a partner and part of the European ECNM network

Zeitschrift:
Autoren:

MD Peter Valent, MD Elisabeth Aberer, MD Christine Beham-Schmid, MD Christina Fellinger, MD Wolfgang Fuchs, MD Karoline V. Gleixner, MD Rosemarie Greul, MD Emir Hadzijusufovic, MD Gregor Hoermann, MD Wolfgang R. Sperr, MD Friedrich Wimazal, MD Stefan Wöhrl, MD Brigitte Zahel, MD Hubert Pehamberger
Wichtige Hinweise
The AUCNM was initiated by an inauguration meeting in Vienna (General Hospital of Vienna at Medical University of Vienna) on November 25, 2011.
Abstract
Mastocytosis is a group of rare diseases characterized by abnormal expansion and accumulation of tissue mast cells in various organ systems. The disease can be divided into cutaneous and systemic variants. Although considered a rare pathologic condition, more and more patients are currently diagnosed as suffering from mastocytosis. The increasing incidence is best explained by enhanced awareness and improved diagnostics in the Western world. This has in turn created a need to establish optimal facilities for the diagnosis, management, and therapy of patients with mastocytosis. In 2002, the European Competence Network on Mastocytosis (ECNM) was established, with the aim to provide all available information to doctors and patients, and to improve management and therapy of mastocytosis in Europe. Within the ECNM, Centers of Excellence and Reference Centers have been defined and inaugurated. In addition, several countries established a local network of competence within the ECNM. In 2011, the Austrian Competence Network on Mastocytosis (AUCNM) was inaugurated. The AUCNM serves as an integral part and essential partner of the ECNM. In the current article, the structure, aims, achievements, and ongoing projects of the AUCNM are presented.