12.09.2017 | short review | Ausgabe 3/2017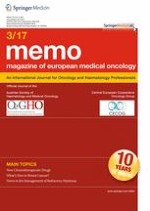 What's new in chemotherapy for non-small cell lung cancer?
Zeitschrift:
Autor:

MD, PhD Christian Britschgi
Summary
The last few years have seen an explosion of novel treatment options for patients diagnosed with lung cancer, mostly for those with stage IV non-small cell lung cancer. On the one hand, this was due to the development of modern diagnostic tools permitting accurate molecular diagnoses leading to the identification of several oncogenic driver mutations which can be therapeutically targeted. On the other hand, the advent of immunotherapy in medical oncology in general, but in thoracic oncology in particular, has changed the treatment landscape first in second-line systemic treatment, but recently also in first-line treatment in patients with programmed death ligand-1 (PD-L1) expression in their tumors of >50%. Despite those advances, the majority of patients we treat in our daily routine will still receive chemotherapy: a so-called druggable aberration is only found in approximately 20% of cases. Some 25% present with an activating KRAS mutation, which despite decades of research still cannot be directly targeted. In the remainder, no genomic aberration of direct clinical consequences has been identified. On the other hand, the rate of PD-L1 positivity >50% at diagnosis has been reported to be between 24.9 and 30.2%. Overall, this leaves the majority of patients without any of those options in first-line therapy and they will receive standard of care chemotherapy. This minireview discusses the latest developments in the field of chemotherapy for non-small cell lung cancer.