29.04.2019 | original article | Ausgabe 15-16/2019 Open Access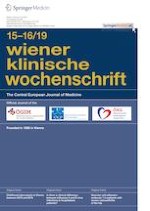 Vascular cell adhesion molecule 1 in patients with severe osteoarthritis of the hip
A prospective cross-sectional study
Zeitschrift:
Autoren:

Bastian Oppl, Christian Datz, Ursula Huber-Schönauer, Emma Husar-Memmer, Wolfgang Brozek, Peter Zenz, Eva Gollob, Christian Wurnig, Alfred Engel, Klaus Klaushofer, Jochen Zwerina, Johann Bartko
Wichtige Hinweise
Publisher's Note
Springer Nature remains neutral with regard to jurisdictional claims in published maps and institutional affiliations.
Summary
Background
Osteoarthritis (OA) of the hip is a frequent and debilitating joint disease. Only few clinical risk factors for hip OA are established and clinically applicable biomarkers to identify patients at risk are still lacking. The glycoprotein vascular cell adhesion molecule 1 (VCAM-1) is expressed by chondrocytes and synovial tissue and was a predictive marker for development of severe large joint OA in a previous study.
Objective
It was tested whether increased serum levels of VCAM-1 are prevalent in patients with severe OA of the hips.
Methods
In this prospective, multicenter, cross-sectional study, risk factors of severe hip OA were investigated in patients scheduled for hip joint arthroplasty and 100 patients were randomly selected for validation of VCAM-1 as a potential biomarker for hip OA. Serum samples were analyzed by an enzyme-linked immunosorbent assay and compared with a sex and age-matched control cohort.
Results
The groups were similar in age, gender ratio and prevalence of diabetes. Serum concentrations of VCAM-1 were 8% higher in OA patients compared to controls, without reaching statistical significance (818 ng ml
−1
, 95% confidence interval, CI 746–891 ng ml
−1
versus 759 ng m
−1
, 95% CI 711–807 ng ml
−1
;
P
 = 0.4839).
Conclusion
The results of this study show that serum concentrations of VCAM-1 cannot distinguish patients with severe hip OA from age and sex-matched controls.