04.12.2017 | short communication | Ausgabe 6/2017 Open Access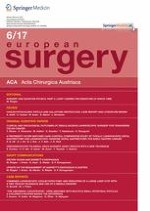 Update on the management of Barrett's esophagus in Austria
Zeitschrift:
Autoren:

M. Riegler, I. Kristo, M. Nikolic, E. Rieder, FACS Univ.-Prof. Dr. S. F. Schoppmann
Introduction
Barrett's esophagus (BE) represents the morphologic premalignant manifestation of gastroesophageal reflux disease (GERD), which develops as a consequence of the dysfunction and failure of the antireflux mechanism within the lower end of the esophagus ([
1
]; Fig.
1
). Via low- (LGD) and high-grade dysplasia (HGD), nondysplastic BE may progress toward adenocarcinoma of the esophagus (risk approx. 0.5% per year; [
2
,
3
]; Fig.
2
).
×
×
Radiofrequency ablation (RFA; Fig.
3
) and endoscopic mucosal and submucosal resection are treatment modalities for the durable eradication of BE, dysplasia, and early cancer and have been demonstrated to foster cancer prevention [
2
,
3
].
×
A recent Austrian multidisciplinary expert panel meeting held in Vienna in June 2015 summarized recommendations for the management of BE [
3
]. Here we aim to summarize and update the recommendation by inclusion of relevant studies published in 2016 until December 2017 from the viewpoint of a high-volume center.
Methods
Based on the recommendations of the recent expert panel meeting we conducted a search of PubMed and Scopus including the following keywords: Barrett's esophagus, endoscopy, endoscopic mucosal and submucosal resection, anti-reflux surgery, fundoplication, gastroesophageal reflux disease, histopathology, LINX lower esophageal sphincter augmentation system, radiofrequency ablation, and surveillance. The analysis included meta-analyses, review articles, and retrospective follow-up studies. Statistical analyses were not applied.
Results
Our search aimed to update the current data on to the diagnosis, therapy, and follow-up of patients with GERD and BE.
Discussion
Conclusion
In summary, the endoscopic management (RFA ± EMR) of dysplastic BE offers an accurate pretreatment diagnosis, is approximately tenfold superior to surveillance for cancer prevention [
10
], warrants accurate follow-up (± RFA ± endoscopic surgery; [
4
,
6
]), and should be conducted in expert specialized centers [
3
]. The efficacy of RFA for cancer prevention in nondysplastic BE should be tested in prospective academic studies. The outcome of studies investigating the impact of antireflux surgery before, during, and after RFA for cancer prevention is awaited [
2
,
3
,
11
,
12
]. Finally, the recent literature supports the inclusion of a low-carbohydrate diet in the management of GERD and BE [
16
,
17
]. Therefore, the management of BE requires a well-orchestrated multidisciplinary approach for the benefit of our patients.
Acknowledgements
The authors thank their patients, families, and friends for their positivity, passion, understanding, and support. Major gratitude is expressed to our friends and teachers Prof. Para Chandrasoma and Prof. Tom Demeester, who wisely opened our minds and motivated a thorough and responsible search for a deeper, holistic understanding of gastroesophageal reflux disease and Barrett's esophagus.
Conflict of interest
M. Riegler, I. Kristo, M. Nikolic, E. Rieder, and S.F. Schoppmann declare that they have no competing interests.
Open Access
This article is distributed under the terms of the Creative Commons Attribution 4.0 International License (
http://​creativecommons.​org/​licenses/​by/​4.​0/​
), which permits unrestricted use, distribution, and reproduction in any medium, provided you give appropriate credit to the original author(s) and the source, provide a link to the Creative Commons license, and indicate if changes were made.