01.06.2012 | original report | Ausgabe 2/2012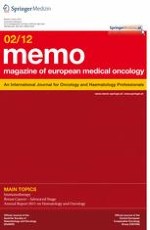 Treatment outcome in AML: a single-centre experience in an unselected patient cohort
Zeitschrift:
Autoren:

MD Kathrin Strasser-Weippl, MD Martin Schreder, MD, PhD Niklas Zojer, MD, PhD Heinz Ludwig
Abstract
Purpose
Data on prognostic factors and treatment outcomes in patients with acute myeloid leukemia (AML) are usually based on highly selected patient groups. We analysed a cohort of unselected consecutive patients with AML diagnosed more than 10 years at a single institution.
Patients and methods
Treatment outcome and prognostic factors were retrospectively analysed in 147 AML patients. Treatment was selected according to study protocols of the OSHO (East German Study Group for Hematology and Oncology) if patients were eligible.
Results
Median age at diagnosis was 68 years. Eighty-eight (59.9 %) patients were treated with curative intent, palliative treatment was given to 27.2 %, and supportive therapy only to 12.9 % of patients. Of patients aged £ 60 years, 97.7 % were treated with curative intent, versus only 43.7 % of those aged > 60 years. Curative treatment resulted in complete remission in 70 %, a median survival of 15.3 months, a significantly decreased early death rate (35 versus 68.4 %,
P
 < 1 ´ 10
−
8
), and significantly prolonged survival compared to all other patients. This was also true for the sub-group of patients aged > 60 years. In multivariate analysis, age > 60 years, high cytogenetic risk, thrombocytopenia, leukocytosis and non-curative treatment intent emerged as risk factors for poor survival.
Conclusion
Outcome and prognostic parameters in unselected consecutive patients with AML treated in a single institution were found to be similar to those obtained in larger more selected patient cohorts. Our results confirmed that elderly patients should be treated with intensive treatment whenever possible to improve early death rate and overall survival.