01.05.2017 | consensus report | Ausgabe 9-10/2017 Open Access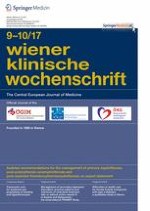 Tranexamic acid for treatment and prophylaxis of bleeding and hyperfibrinolysis
Zeitschrift:
Autoren:

Univ.Prof. Dr. Ingrid Pabinger, Dietmar Fries, Herbert Schöchl, Werner Streif, Wolfgang Toller
Introduction
Massive bleeding after surgical interventions or severe trauma continues to be one of the most frequent life-threatening emergencies [
1
–
3
]. Trauma-associated hemorrhagic shock is the most frequent cause of avoidable deaths, with hyperfibrinolysis (HF) at the time of hospitalization having been identified as an independent predictor of mortality [
4
–
6
]. In addition, peripartum bleeding, with a proportion of up to 25% of pregnancy-associated complications, ranks first along with thromboembolism, among the causes of maternal death [
7
].
Hemostatic disorders in the context of massive bleeding have long been deemed as coagulopathies resulting from blood loss, dilution and consumption, forming the "lethal triad" along with hypothermia and acidosis. More recent studies have shown, however, that shock and the resulting hypoperfusion may trigger coagulopathy independently of tissue trauma, with HF being regarded as the underlying mechanism [
8
].
Since the 1960s the non-specific serine protease inhibitor aprotinin and the inhibitors of plasminogen activation tranexamic acid (TXA) and/or ε‑aminocapronic acid (ΕΑΧΑ) have been used in the treatment of HF. Aprotinin was, however, withdrawn from the market in 2007, since massive side effects had been observed in the course of complex cardiovascular surgery [
9
]. First described some 50 years ago, TXA has been widely used for the prevention and therapy of hemorrhages and/or primary and secondary HF. In recent years interest has increasingly focused on intravenous administration, since it has been shown that early administration of TXA after severe trauma can significantly increase the rate of survival [
10
–
13
]. Accordingly, in 2011 the World Health Organization (WHO) added TXA to its list of essential medicines.
1
In addition, the reduction of perioperative blood loss and the resulting decline in the demand for transfusions have induced European societies (Task Force for Advanced Bleeding Care in Trauma and the European Society of Anesthesiology) to publish in recent guidelines a 1A recommendation for the use of TXA in the case of traumatic and perioperative bleeding [
2
,
3
].
This article presents the different fields of application of TXA, including those outside anesthesia and intensive care medicine, on the basis of current studies and guideline recommendations regarding indications and dosage schedules.
Hyperfibrinolysis
Pathophysiology
By definition, HF is a state of increased clot resolution that may be associated with severe, potentially life-threatening hemorrhage. It may be caused by excessive plasmin formation or a reduction of plasmin decomposition due to a depletion of α
2
-antiplasmin. Plasmin is capable of cleaving both fibrin and fibrinogen. The resulting fibrin cleavage products, which inhibit the cross-linking of fibrin, can aggravate this effect [
14
].
Disorders associated with HF
Clinical studies have shown that a number of pathological conditions may go hand in hand with the activation of the fibrinolytic system. In recent years the focus has increasingly been on severe trauma with subsequent tissue hypoxia. HF has also been observed in the context of severe postpartum hemorrhage [
15
]. Furthermore, an increase in the activation of fibrinolysis has been reported in the course of extracorporeal circulation and in the case of liver transplantations [
16
–
18
].
Diagnosis
Diagnosing HF often proves difficult, since no specific tests that would allow prompt therapeutic decisions are currently available. Tests such as the determination of plasmin-antiplasmin complexes or α
2
-antiplasmin assays are time-consuming and hardly practicable in everyday clinical work. The same holds for the euglobulin lysis time, long seen as the gold standard but both time-consuming and fault-prone [
19
]. Viscoelastic tests such as thromboelastometry or thrombelastography (ROTEM and TEG, respectively), on the other hand, can detect HF but only if plasmin-antiplasmin levels are high or α
2
-antiplasmin levels are very low [
20
]. There is an urgent need for better and more sensitive diagnostic analyses and rapid HF monitoring to facilitate differentiation between hyperfibrinolytic states and other coagulopathies [
21
]. Moreover, it would be important to be able to identify patients who could be treated with TXA, since recent data suggest that not all patients benefit from TXA therapy [
22
,
23
].
Mode of action of tranexamic acid
TXA is a synthetic lysine analogue that inhibits conversion of plasminogen to plasmin by preventing plasminogen from binding to the fibrin molecule. TXA also inhibits plasmin activity directly, although only at higher doses [
24
]. TXA inhibits fibrin cleavage, thus reducing the risk of hemorrhage. It also blocks binding of α
2
-antiplasmin and inhibits inflammatory reactions. Compared with epsilon‐aminocaproic acid (EACA), TXA is more potent by a factor of 10 [
25
]. The substance can be administered orally or intravenously (Table
1
), its oral bioavailability ranging from 30–50%. With a plasma protein binding of 3% it can completely cross the placenta. Metabolism of TXA in the liver is low, renal clearance amounts to 95% [
26
], and the half-life in adults is approximately 2.3 h [
27
].
Table 1
Therapeutic indications for tranexamic acid [
27
]
Intravenous administration
Prophylaxis and treatment of bleeding due to a local or systemic hyperfibrinolysis in adults and children over the age of 1 year
Bleeding in which hyperfibrinolysis is considered to be involved:
Menorrhagia and metrorrhagia
Gastrointestinal bleeding
Bleeding in urinary tract infections, postoperative bleeding following prostate or urinary tract surgery
Ears, nose and throat (ENT) surgery (adenoidectomy, tonsillectomy, dental extractions)
Gynecological surgery or obstetric hemorrhage
Abdominal and thoracic surgery and other major surgery, e. g. cardiac surgery
As antidote in bleeding requiring immediate treatment while on fibrinolytic treatment
Hypermenorrhea (menorrhagia)
Prostatectomy
Epistaxis
Conisation of the cervix
Prophylaxis of recurrent bleeding in traumatic hyphema
Dental extraction and other interventions in ENT area in patients with hereditary coagulopathies
Mucosal bleeding in patients with coagulopathies
Hereditary angioneurotic edema
So far there have been no reports suggesting the presence of serious side effects, not even with high dosages and long-term administration (Table
2
; [
28
]). Since renal insufficiency carries the risk of accumulation of TXA, administration of TXA is contraindicated in patients with severe kidney dysfunction (Table
3
). Dosages need not be modified in patients with impaired liver function and elderly patients with no kidney dysfunction (Table
4
). In patients with slight to moderate kidney dysfunction TXA dosages should be reduced in dependence on serum creatinine levels (for details see SmPC Cyklokapron® [
27
]).
Table 2
Clinically relevant adverse effects of tranexamic acid (expert opinions) [
27
]
Gastrointestinal disturbances (nausea, vomiting, diarrhea)
Drop of blood pressure/dizziness following a too fast intravenous administration
Incidental allergic skin reactions
Infrequent temporal vision impairment
Convulsions
Table 3
Contraindications of tranexamic acid [
27
]
Hypersensitivity to TXA
Early pregnancy, in late pregnancy only when vitally indicated
Disturbances of color vision
Massive bleeding in the upper urinary tract (risk of ureter obstruction due to clot)
Acute venous or arterial thrombosis
Severe renal impairment
History of convulsions
Intrathecal and intraventricular injection, intracerebral administration (risk of cerebral edema and convulsions)
Diseminated intravascular coagulation (DIC) without severe hemorrhage
Table 4
Dosage and administration of tranexamic acid
According to the SmPC the following dosage guidelines apply to adults [
27
]:
1. Oral administration (1 tablet = 0.5 g).
The recommended standard dose is 2–3 times daily 2–3 tablets (1–1.5 g), daily dosage 2–4.5 g
2. Intravenous administration (1 ampoule = 5 ml = 0.5 g) in fibrinolysis:
The recommended standard dose is 2–3 times daily 0.5–1 g (1–2 ampoules à 5 ml) by slow intravenous injection (1 ml/min)
3. Intravenous administration in general fibrinolysis:
The recommended standard dose is 1 g (2 ampoules à 5 ml) every 6–8 h by slow intravenous injection (1 ml/min), corresponding to 15 mg/kg body weight
Tranexamic acid in acute hemorrhagic events
Tranexamic acid in elective applications
TXA not recommended by the authors
According to expert opinion, administration of TXA is not recommended in the following cases:
Renal failure

Epilepsy

Benign gynecological interventions (e. g. myomectomy)

In combination with activated factor concentrate (FEIBA, factor VIII inhibitor bypass activity; 1 ml = 25 E* factor VIII inhibitor bypass activity; see footnote 3)

Fibrinolysis due to disseminated intravascular coagulation without any significant bleeding
If TXA were still to be administered, this should only be done in patients in whom an activation of the fibrinolytic system preponderates and in the presence of severe bleeding.
Summary
TXA has been used for decades to prevent and treat clinically relevant HF and more generally for the prevention and treatment of bleeding due to a variety of causes. In the course of major surgical interventions (especially cardiac surgery, orthopedic surgery and liver transplantations) TXA reduces perioperative blood loss and the need for transfusions. In trauma patients with partly excessive bleeding TXA can also reduce mortality, in particular if administered within a narrow time frame after injury.
Despite extensive experience there still remain open questions as to the uses of TXA, which would ideally have to be dealt with in future studies:
In some fields of application there is a need to define the optimum TXA dosage, since, side by side with the dose recommendations found in current summaries of product characteristics (SPC), both clinical studies and the practice of centres with considerable experience have in the meantime provided evidence that numerous other regimes, such as half doses, administration of a bolus, administration twice, preoperatively and postoperatively, seem to be equally effective.

As to the risk of thromboembolic complications findings are still partly contradictory, and it is not yet clear which patients are at risk at all and which of them run the highest risk.

This is also true of seizures observed with higher TXA doses and in the course of cardiac surgery.

It would be highly desirable to develop better and more sensitive diagnostic methods to differentiate more easily between hyperfibrinolytic conditions and other coagulopathies or DIC. Likewise, suitable tests ought to be developed to identify more precisely patients that might be treated with TXA and those likely not to benefit from such treatment.
Outlook
More extensive or more precise answers are expected from current randomized controlled studies comprising several thousands of patients, such as, for example, the Australian PATCH study (Pre-hospital Antifibrinolytics for Traumatic Coagulopathy and Haemorrhage – NCT02187120), which investigates early administration of TXA to severely injured patients to improve survival rates and convalescence, and the Danish PeTraH study (NCT01940419), which evaluates TXA administered to prevent bleeding in cases of benign hysterectomy. The French TRAAP study (Tranexamic Acid for Preventing Postpartum Haemorrhage Following a Vaginal Delivery – NCT02302456) investigates whether low-dose TXA immediately after vaginal delivery can reduce the incidence of postpartum hemorrhage in women having received oxytocin. Moreover, the international WOMAN trial (World Maternal Antifibrinolytic trial – NCT00872469), a randomized double-blind study, in which more than 20,000 women from 21 countries with postpartum bleeding are enrolled, evaluates the efficacy of early administration of TXA with regard to the endpoints death, hysterectomy, surgical interventions, blood transfusions and other vascular events (
http://​www.​womantrial.​lshtm.​ac.​uk/​
).
×
×
Funding
The organization and running of meetings as well as the subsequent coordinating process and publication of the present review article were financed through an unrestricted grant by Pfizer Corp. Austria. The organization of the meeting and the publication process was supported by Update Europe – Society for Postgraduate Medical Training.
Open access funding provided by Medical University of Vienna.
Conflict of interest
W. Toller declares that he has no competing interests. I. Pabinger: payment for lectures and Advisory Board Meetings of Bayer, Boehringer, Biotest, CSL Behring, Pfizer companies. D. Fries: Astra Zeneca, AOP Orphan, Baxter, Bayer, BBraun, Biotest, CSL Behring, Delta Select, Dade Behring, Edwards, Fresenius, Glaxo, Haemoscope, Hemogem, Lilly, LFB, Mitsubishi Pharma, NovoNordisk, Octapharm, Pfizer, Tem-Innovation. H. Schöchl: study grants from CSL Behring and Tem International and speaker fees CSL Behring, Baxter, Baxalta, Bayer, Pfizer and Tem International. W. Streif: payment for lectures and counselling of Bayer, Baxalta, Biotest, CSL-Behring, Octapharma, Orphan Medical, Pfizer companies.
Open Access
This article is distributed under the terms of the Creative Commons Attribution 4.0 International License (
http://​creativecommons.​org/​licenses/​by/​4.​0/​
), which permits unrestricted use, distribution, and reproduction in any medium, provided you give appropriate credit to the original author(s) and the source, provide a link to the Creative Commons license, and indicate if changes were made.