01.06.2016 | original article | Ausgabe 11-12/2016 Open Access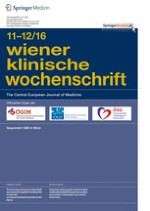 Tracheostomy is associated with decreased hospital mortality after moderate or severe isolated traumatic brain injury
Zeitschrift:
Autoren:

David Marek Baron, Helene Hochrieser, Philipp G. H. Metnitz, Walter Mauritz
Introduction
Following admission to the intensive care unit (ICU) patients with moderate or severe traumatic brain injury (TBI; defined as a Glasgow Coma Scale [GCS] score ≤12) usually require prolonged analgesia, sedation, and ventilation. Many of these patients arrive at the ICU with an endotracheal tube in place. During their ICU stay, some of these patients require a tracheostomy. At present, data are ambiguous as to whether or not tracheostomy has any impact on outcome in patients with moderate or severe TBI.
Almost 20 years ago Lesnik et al. [
1
] recommended early tracheostomy within 4 days of the injury for patients with blunt multiple trauma. The authors found that late tracheostomy was associated with longer duration of ventilation and higher rates of pulmonary infections. This finding was supported by D'Amelio et al. [
2
], who studied 43 patients with severe TBI (defined as an Abbreviated Injury Scale [AIS] score for the head region >2). The authors reported a shorter duration of ventilation, and shorter ICU and hospital length of stay (LOS) in trauma patients undergoing tracheostomy. Comparable results have been published by Kluger et al. [
3
], Teoh et al. [
4
], and Ahmed et al. [
5
]. Other authors, however, found no significant benefits of early tracheostomy in patients with TBI [
6
]. Stocchetti et al. [
7
] were the first to point out that the procedure may increase intracranial pressure (ICP) in patients with brain damage. These results have been supported by further studies [
8
,
9
]. Kocaeli et al. [
9
] studied the effects of tracheostomy upon ICP during early (within 7 days) or late (after 7 days) tracheostomy in patients with significant brain pathological conditions (GCS < 8). In patients with early tracheostomy, ICP nearly doubled during the procedure, whereas ICP increased only 30 % during late tracheostomy. Conversely, Milanchi et al. found no significant increases in ICP during tracheostomy in patients with TBI [
10
]. Thus, at present, it is unclear whether tracheostomy is beneficial for patients with TBI.
The goal of the current study was to investigate whether tracheostomy was beneficial in patients with isolated TBI. We analyzed data from a large cohort of patients collected at 87 Austrian ICUs. We report that patients with moderate or severe isolated TBI undergoing tracheostomy had a lower risk-adjusted mortality compared with patients who remained intubated.
Materials and Methods
The study protocol was submitted to and approved by the institutional ethics committee. Since no interventions were performed and no individual data were analyzed, the need for informed consent was waived.
Results
Discussion
In the current study, we report that tracheostomy was associated with decreased ICU and hospital mortality in patients with moderate or severe isolated TBI compared with patients who remained intubated. Our results suggest that tracheostomy may improve outcome in patients with isolated TBI, as indicated by the lower risk-adjusted mortality rates for these patients. To the best of our knowledge this is the largest study comparing the effects of endotracheal intubation and tracheostomy on outcome in patients with isolated TBI.
In summary, our results suggest that tracheostomy in patients with moderate or severe isolated TBI might be beneficial, especially if the procedure is performed in the second or third week after admission. The exact reasons for this difference in outcome could be multifactorial and require further investigation.
Acknowledgements
The idea for this work and major contributions to this study came from our beloved friend and colleague Walter Mauritz, Professor of Anesthesiology & Intensive Care Medicine in Vienna, Austria. Unfortunately, he passed away during the final stages of the project. We want to thank him for his continuous efforts in patient care, science, and education. He was a brilliant clinician and scientist, who will be dearly missed by family, friends, and colleagues. Furthermore, we would like to thank René Schmutz, MD, and the ASDI study group and its members for their contributions.
Conflict of interest
D. M. Baron, H. Hochrieser and P. G. H. Metnitz state that there are no conflicts of interest.
Open Access
This article is distributed under the terms of the Creative Commons Attribution 4.0 International License (http://creativecommons.org/licenses/by/4.0/), which permits unrestricted use, distribution, and reproduction in any medium, provided you give appropriate credit to the original author(s) and the source, provide a link to the Creative Commons license, and indicate if changes were made.