01.06.2016 | original article | Ausgabe 11-12/2016 Open Access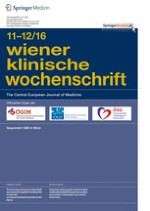 Tracheostomy is associated with decreased hospital mortality after moderate or severe isolated traumatic brain injury
Zeitschrift:
Autoren:

David Marek Baron, Helene Hochrieser, Philipp G. H. Metnitz, Walter Mauritz
Introduction
Following admission to the intensive care unit (ICU) patients with moderate or severe traumatic brain injury (TBI; defined as a Glasgow Coma Scale [GCS] score ≤12) usually require prolonged analgesia, sedation, and ventilation. Many of these patients arrive at the ICU with an endotracheal tube in place. During their ICU stay, some of these patients require a tracheostomy. At present, data are ambiguous as to whether or not tracheostomy has any impact on outcome in patients with moderate or severe TBI.
Almost 20 years ago Lesnik et al. [
1
] recommended early tracheostomy within 4 days of the injury for patients with blunt multiple trauma. The authors found that late tracheostomy was associated with longer duration of ventilation and higher rates of pulmonary infections. This finding was supported by D'Amelio et al. [
2
], who studied 43 patients with severe TBI (defined as an Abbreviated Injury Scale [AIS] score for the head region >2). The authors reported a shorter duration of ventilation, and shorter ICU and hospital length of stay (LOS) in trauma patients undergoing tracheostomy. Comparable results have been published by Kluger et al. [
3
], Teoh et al. [
4
], and Ahmed et al. [
5
]. Other authors, however, found no significant benefits of early tracheostomy in patients with TBI [
6
]. Stocchetti et al. [
7
] were the first to point out that the procedure may increase intracranial pressure (ICP) in patients with brain damage. These results have been supported by further studies [
8
,
9
]. Kocaeli et al. [
9
] studied the effects of tracheostomy upon ICP during early (within 7 days) or late (after 7 days) tracheostomy in patients with significant brain pathological conditions (GCS < 8). In patients with early tracheostomy, ICP nearly doubled during the procedure, whereas ICP increased only 30 % during late tracheostomy. Conversely, Milanchi et al. found no significant increases in ICP during tracheostomy in patients with TBI [
10
]. Thus, at present, it is unclear whether tracheostomy is beneficial for patients with TBI.
The goal of the current study was to investigate whether tracheostomy was beneficial in patients with isolated TBI. We analyzed data from a large cohort of patients collected at 87 Austrian ICUs. We report that patients with moderate or severe isolated TBI undergoing tracheostomy had a lower risk-adjusted mortality compared with patients who remained intubated.
Materials and Methods
The study protocol was submitted to and approved by the institutional ethics committee. Since no interventions were performed and no individual data were analyzed, the need for informed consent was waived.
Data were collected by the Austrian Center for Documentation and Quality Assurance in Intensive Care Medicine (ASDI), a non-profit organization that has established an ICU database and benchmarking project in Austria. The prospectively collected data included socio-demographic parameters such as age, sex, and chronic conditions (comorbidities); the reason for ICU admission according to a list of medical and surgical diagnoses [
11
]; the severity of illness and of trauma according to the GCS score, Simplified Acute Physiology Score (SAPS) II, and Injury Severity Score (ISS) [
12
–
14
], all determined at admission. For patients sedated at admission, the GCS score obtained immediately before sedation was used. In addition, the level of care provided, as measured by the Therapeutic Intervention Scoring System (TISS-28) [
15
], was recorded daily. The length of ICU and hospital stays and the status at ICU and hospital discharge (survival/death) were recorded.
To assess the reliability of data collection, we sent an independent observer to each unit to obtain SAPS II data from the clinical charts of a random sample of patients. Variance-component analyses with the random factors "units," "patients within units," and "observers within units" were performed. As described previously, the main source of variation for most of the variables was the variability between "patients within units," whereas "units" did not substantially contribute as an additional source of variation. Overall, the results indicated an excellent grade of agreement [
16
]. To assess the completeness of the documentation, we calculated the number of missing parameters for the SAPS II and achieved satisfactory results. More details have been reported elsewhere [
16
].
Between 1998 and 2010, a total of 279,937 patients were admitted to 87 Austrian ICUs (Fig.
1
). Patients without a unique ID and those documented twice were excluded from analysis (
n
= 366). For patients who were admitted more than once (
n
= 19,426), only the first admission was included. Patients who were younger than 18 years (
n
= 5,386), those with records that lacked an entry in the field "hospital outcome" (
n
= 2,108) and those without a valid SAPS II (
n
= 10,063) were also excluded, leaving a cohort of 242,588 patients. From this cohort, in TBI was the main reason for admission in 6,871 patients. Of these, 2,136 patients were excluded because regions other than the head were affected by trauma (e. g., abdomen, thorax, or extremities), leaving 4,735 patients with isolated TBI. Finally, patients without endotracheal intubation or tracheostomy during their ICU stay (
n
= 1,957), those with mild TBI, defined by a GCS between 13 and 15 (
n
= 572), and patients with an AIS head score of 1 or 6 (
n
= 50) were excluded. Thus, the final study cohort included a total of 2,156 patients with moderate or severe isolated TBI; 1,603 patients were only endotracheally intubated, whereas 553 patients had additionally undergone tracheostomy. Because of the design of the database, a breakdown into surgical and percutaneous dilatational tracheostomies was not possible.
×
Statistical analysis
Statistical analysis was performed using SAS software version 9.2 (SAS Institute, Cary, NC, USA) and R 2.14.1. For tests of statistical significance, ANOVA was performed for normally distributed data. The Kruskal–Wallis test was used if data were not normally distributed. Furthermore, the Chi-squared test was used when appropriate. A
p
value of <0.05 was considered significant. Unless otherwise specified, descriptive results are expressed as median and first and third quartiles respectively. Observed-to-expected mortality ratios as surrogates for risk-adjusted mortality were calculated by dividing the number of observed deaths per group by the number of SAPS II-predicted deaths per group, and are indicated with their corresponding 95 % confidence intervals (CIs).
To evaluate factors associated with a tracheostomy after admission to the ICU, we applied methods for cumulative incidences (R-functions cuminc – package cmprsk). A competing risk regression model to investigate the impact of different variables on receiving a tracheostomy after ICU admission was calculated (R-functions crr – package cmprsk) [
17
]. The co-variables used were the SAPS II, the AIS head score, and the number of TBI cases per year as a unit-specific influence variable. Results are depicted as cumulative incidences with 95 % CIs.
Results
Discussion
In the current study, we report that tracheostomy was associated with decreased ICU and hospital mortality in patients with moderate or severe isolated TBI compared with patients who remained intubated. Our results suggest that tracheostomy may improve outcome in patients with isolated TBI, as indicated by the lower risk-adjusted mortality rates for these patients. To the best of our knowledge this is the largest study comparing the effects of endotracheal intubation and tracheostomy on outcome in patients with isolated TBI.
In summary, our results suggest that tracheostomy in patients with moderate or severe isolated TBI might be beneficial, especially if the procedure is performed in the second or third week after admission. The exact reasons for this difference in outcome could be multifactorial and require further investigation.
Acknowledgements
The idea for this work and major contributions to this study came from our beloved friend and colleague Walter Mauritz, Professor of Anesthesiology & Intensive Care Medicine in Vienna, Austria. Unfortunately, he passed away during the final stages of the project. We want to thank him for his continuous efforts in patient care, science, and education. He was a brilliant clinician and scientist, who will be dearly missed by family, friends, and colleagues. Furthermore, we would like to thank René Schmutz, MD, and the ASDI study group and its members for their contributions.
Conflict of interest
D. M. Baron, H. Hochrieser and P. G. H. Metnitz state that there are no conflicts of interest.
Open Access
This article is distributed under the terms of the Creative Commons Attribution 4.0 International License (http://creativecommons.org/licenses/by/4.0/), which permits unrestricted use, distribution, and reproduction in any medium, provided you give appropriate credit to the original author(s) and the source, provide a link to the Creative Commons license, and indicate if changes were made.