05.12.2018 | short review | Ausgabe 1/2019 Open Access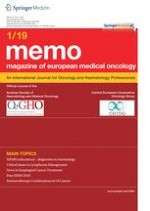 Therapeutic endoscopic strategies in early esophageal cancer and dysplastic Barrett's epithelium
Zeitschrift:
Autoren:

Teresa Fritz, Rainer Schöfl, Friedrich Wewalka, Alexander Ziachehabi
Introduction
Endoscopic tumor therapy originates from piecemeal endoscopic mucosal resection (EMR) and developed to endoscopic submucosal dissection (ESD).
Staging
Therefore, it is crucial for endoscopists to learn how to distinguish lesions infiltrating the superficial submucosa from intraepithelial tumors macroscopically. This is done by a combination of high-resolution white light endoscopy and virtual chromoendoscopy with magnification (e.g., NBI).
The evaluation of a suspicious lesion using IPCL classification is therefore an indispensable tool in making a decision on which therapeutic strategy should be followed in early esophageal squamous cell carcinoma.
In Barrett's epithelium with dysplastic or tumor-suspicious visible lesions, endoscopists should also perform magnifying NBI-guided endoscopy to evaluate the mucosal microsurface and microvascular pit pattern.
Endoscopic strategies for dysplastic Barrett's epithelium and EAC
The diagnosis of any grade of dysplasia in random biopsies from Barrett's epithelium should be confirmed by an expert gastrointestinal (GI) pathologist and it is important to rule out macroscopic signs of inflammation in the Barrett's mucosa before biopsies are taken.
Endoscopic strategies for very early esophageal squamous cell carcinoma
Detection of squamous cell carcinoma in the esophagus at a very early stage is challenging since these lesions often appear subtle and are usually flat. The highest tumor detection rates can be achieved using the combination of high-resolution white light endoscopy and virtual chromoendoscopy with NBI. With regard to the detection rate of high-grade dysplasia and squamous cell carcinoma, NBI is equal to Lugol staining, but NBI has a higher specificity (82% vs. 37%), while sensitivity is similar [
45
]. Additionally, Inoue et al. demonstrated that the microvascular pattern of the IPCL can be used to predict the degree of malignancy and invasiveness of a lesion [
46
].
ESD in early squamous cell carcinoma
In contrast to EMR, ESD is the gold standard for removing very early esophageal squamous cell carcinoma.
The superiority of ESD to EMR in this tumor entity is based on higher en bloc resection rates [
44
], higher R0 resection rates (97.4% vs. 78.3%,
p
 = 0.0002), and lower tumor recurrence rates (0.9% vs. 9.8%,
p
 = 0.0065; [
47
]). Furthermore, there is a substantial risk for lymph node metastasis in SCC, increasing to 8–18% when lamina muscularis mucosae (m3) is infiltrated, while deeper invasion bears a lymph node risk of up to 11–53% for sm1 and 30–54% for sm2 tumors [
48
–
50
]. This explains why ESD is considered curative only for intraepithelial (m1) and lamina propria infiltrating (m2) tumors since there is low lymphometastatic potential. Submucosal tumor invasion in squamous cell carcinoma ≤200 μm (sm1) can be tolerated if poor tumor differentiation, lymphatic or venous vessel invasion, and tumor infiltration of the vertical dissection margins can be excluded. Otherwise, patients must be evaluated for tumor surgery.
Safety and management of complications in endoscopic tumor resection in the esophagus
Compared with esophageal resection, EMR and ESD both are considered a safe procedure associated with low complication rates. The most frequently occurring complications are bleeding, perforations, and esophageal strictures. Usually, bleeding and small perforations can be successfully treated endoscopically.
A meta-analysis of 11 studies, where 501 ESDs of early esophageal adenocarcinoma between 2005 and 2016 were analyzed, revealed a pooled perforation rate of 1.5% (0.4–3%), a pooled bleeding rate of 1.7% (95% CI: 0.6–3.4%), and the pooled risk of stricture development was 11.6% (95% CI: 0.9–29.6%) while the incidence of neoplastic recurrence after curative resection was 0.17% (95% CI: 0–0.3%) at a mean follow-up of 22.9 months (95% CI: 17.5–28.3) [
51
].
Strictures often represent a long-term issue with recurrent need for balloon dilatation treatment. Stricture development depends primarily on the resection size. A resection size including more than 75% of esophageal circumference accompanied by a tumor infiltration deeper than the lamina propria layer (>m2) is significantly associated with stricture development [
52
]. Currently, systemic steroid therapy and local steroid injections as stricture prophylaxis after ESD in patients with relevant tumor resection size are under debate in multiple studies. To date, no guideline-based recommendation for steroid therapy has been published. Nevertheless, some studies pointed out that postinterventional systemic steroid treatment beneficially influences stricture development, suggesting that this could at least be an attempt of treatment [
53
–
55
].
Recently, another study revealed that 25% of patients who underwent ESD with circumferential resection rates of >75% showed esophageal dysmotility in high-resolution manometry studies and 69% of these patients also presented with clinically verifiable dysmotility symptoms although no stricture could be detected endoscopically [
56
]. Therefore, dysmotility must also be considered as a potential adverse event after endoscopic tumor resection.
Conclusion and future perspectives
Both in Barrett's and squamous cell early esophageal cancer, endoscopic resection is considered the therapy of choice if deep tumor infiltration, lymphatic or venous vessel infiltration, or poor tumor differentiation can be excluded [
26
]. As a minimally invasive tumor therapy, endoscopic resection is more cost effective [
8
] and associated with lower morbidity and mortality rates [
7
].
Stricture development after the resection of large esophageal tumors with substantial circumferential involvement is still a problem, and many studies dealing with this issue have been published with controversial outcomes. Therefore, more studies and new treatment strategies for stricture prevention are needed in the future.
Since the incidence of esophageal cancer is rising in the Western world, Western endoscopists have ambitiously strived to learn and improve their skills in EMR and ESD from their Japanese colleagues during the past few years and there are ongoing efforts to make these techniques broadly available in the West. Nevertheless, expanding the adoption of endoscopic tumor resection techniques in the West is challenging. This is mainly because of a limited availability of qualified Western mentors together with low rates of lesions that are suitable for removal by beginner EMR/ESD endoscopists. Moreover, as a future perspective, ESD training programs from official endoscopy societies are underway but not yet finally approved. These criteria are of tremendous importance for the adoption of EMR/ESD techniques to a broader field in the West. Importantly, also community endoscopists should be encouraged to improve their skills for early esophageal tumor detection, because they perform a substantial number of screening endoscopies.
Altogether, the development of EMR and ESD has essentially changed former therapy guidelines of early esophageal cancer and this has paved the way for minimally invasive, therapeutic oncologic tumor resection in this tumor entity. Therefore, endoscopists and endoscopy societies must continuously contribute toward spreading these skills to ensure optimal, nationwide tumor patient care in Western countries.
Conflict of interest
T. Fritz, R. Schöfl, F. Wewalka, and A. Ziachehabi declare that they have no competing interests.
Open Access
This article is distributed under the terms of the Creative Commons Attribution 4.0 International License (
http://​creativecommons.​org/​licenses/​by/​4.​0/​
), which permits unrestricted use, distribution, and reproduction in any medium, provided you give appropriate credit to the original author(s) and the source, provide a link to the Creative Commons license, and indicate if changes were made.