05.12.2018 | short review | Ausgabe 1/2019 Open Access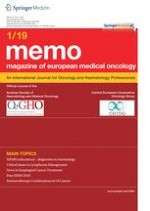 Therapeutic endoscopic strategies in early esophageal cancer and dysplastic Barrett's epithelium
Zeitschrift:
Autoren:

Teresa Fritz, Rainer Schöfl, Friedrich Wewalka, Alexander Ziachehabi
Summary
Endoscopic therapy is the gold standard for curative treatment of early esophageal adenocarcinoma (EAC) including dysplastic Barrett´s epithelium (BE) and very early squamous cell carcinoma (SCC) because it is superior to surgery in regard to morbidity, mortality and cost effectiveness while yielding excellent results and low complication rates.
Tumor detection at an early stage is often challenging and a multimodal approach using high resolution white light endoscopy, virtual chromoendoscopy (e.g. narrow band imaging, NBI) and endoscopic ultrasonography (EUS) is recommended. Importantly, histological diagnosis and EUS guided tumor staging should be performed before endoscopic tumor resection, although EUS validity has its limitations in terms of superficial mucosal and submucosal tumor invasion.
In early esophageal adenocarcinoma, endoscopic mucosal resection (EMR) is considered the first line therapy and endoscopic submucosal dissection (ESD) is recommended only in special cases. In contrast, in very early squamous cell carcinoma, ESD is superior to EMR. This is mainly caused by a lower risk for lymphatic metastases in adenocarcinoma compared to squamous cell carinoma. If endoscopic resection is not curative or not feasible, surgery is the treatment of choice - assuming the patient´s comorbidities and performance status are no exclusion criteria.