22.01.2018 | original article | Ausgabe 3-4/2018 Open Access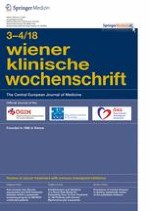 The search for attitude—a hidden curriculum assessment from a central European perspective
Zeitschrift:
Autoren:

Birgit Ludwig, Bela Turk, Tamara Seitz, Isabella Klaus, Henriette Löffler-Stastka
Wichtige Hinweise
Author's contributions
B. Ludwig participated in the design and drafted the manuscript. B. Turk and T. Seitz carried out the survey. B. Ludwig and T. Seitz participated in the design of the study and performed the statistical analysis. I. Klaus participated in the draft. H. Löffler-Stastka conceived the study, participated in its design and coordination, helped to draft the manuscript, supervised and finalized the manuscript. All authors read and approved the final manuscript.
Summary
Background
Little is known about the development of the hidden curriculum in the medical education system. It refers to a conglomeration of implicit beliefs, attitudes and forms of conduct that are unwittingly transmitted from one generation of teaching physicians to the next. How can we describe this process, what are the potential positive or negative impacts, and last but not least, how can we measure it?
Methods
Students of the Medical University of Vienna complete their clinical rotations in Vienna and in other accredited, mostly central European hospitals. They were subsequently invited to evaluate their rotations in an online questionnaire regarding dimensions, such as professionalism, teaching, integration and appreciation.
Results
In total, 133 students participated in this pilot study and the average response rate was 10.1%, similar to evaluations conducted prior to that. Although the evaluation results on average were positive, several experiences of deprecation and less professional conduct were present in each evaluated rotation. Giving the students the opportunity to reflect upon their experiences could be seen as an intervention and investigation at the same time.
Conclusions
This survey serves as a precursor to a qualitative interview-based study, accompanying the implementation of case-based learning designed by collaborating residents and medical students. The findings of this pilot-study support the necessity of fostering a reflective capacity in the education of medical students, enabling them to speak up and live up to the expected professionalism despite shortcomings within the hidden curriculum.