01.10.2012 | review article | Ausgabe 19-20/2012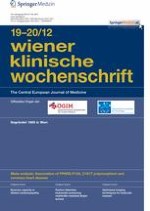 The meta-analysis of the association of PPARG P12A, C161T polymorphism and coronary heart disease
Zeitschrift:
Autoren:

Saidan Ding, Leping Liu, Qǐ-Chuan Zhuge, Zhen Yu, Xing Zhang, Jieya Xie, Weilong Hong, Silu Wang, Yunxiu Yang, MD Bicheng Chen
Summary
Objective
Two common variations of peroxisome proliferator-activated receptor γ (PPARG), P12A (Pro12Ala, rs1801282), and C161T (His447His, rs3856806), are thought to have an effect on susceptibility to coronary heart disease (CHD), but the results are inconsistent. Therefore, a meta-analysis of published studies was performed.
Methods
The electronic databases, PubMed, Embase, Web of Science, and CNKI (China National Knowledge Infrastructure) were searched for studies to include in the present meta-analysis (last search was updated on 30 Aug. 2011). Twenty studies testing the association between PPARG gene polymorphisms and CHD were examined: 12 studies of P12A; 8 studies of C161T. Overall and ethnicity-specific summary odds ratios and corresponding 95 % confidence intervals for CHD associated with these polymorphisms were estimated using fixed- and random-effects models. Heterogeneity and publication bias were evaluated. A total of 20 studies including 5,795 cases and 9,069 controls were included in this meta-analysis.
Results
No significant associations were found in carriers of the rare Ala allele of the P12A polymorphism versus the common Pro/Pro genotype among the studies with both of the fixed-effect and random-effect model. In the subgroup analyses by ethnicity, source of control and type of study, no significant risks were found. For PPARG C161T, carriers of the T variant of C161T polymorphism were associated with an increased risk of CHD (OR = 1.182, 95 % CI: 1.023–1.341, Pheterogeneity = 0.002), and in the stratified analysis by ethnicity and source of controls, the contrast of CT + TT vs. CC all produced significant association in Asian and hospital-based controls (OR = 1.276, 95 % CI: 1.084–1.468, Pheterogeneity = 0.055; OR = 1.164, 95 % CI: 1.001–1.326, Pheterogeneity = 0.002),when the fixed-effect model was used. But they were all insignificant with the random-effect model.
Conclusion
This meta-analysis suggests that the PPARG C161T polymorphism marginally contributes to increased susceptibility to CHD and marginally increased association between PPARG H477H polymorphism and CHD also appeared in Asian and hospital-based controls. But PPARG P12A polymorphism is not associated with CHD risk.