07.11.2018 | historical article | Ausgabe 21-22/2018 Open Access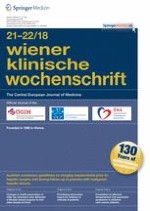 The Jewish doctors involved in the development of health resorts in eastern Galicia at the late 19th and early 20th century (Central and Eastern Europe)
Zeitschrift:
Autoren:

DPT Izabela Spielvogel, PhD Krzysztof Spałek, PhD Jarosław Proćków
Summary
Background
The involvement of Jewish doctors and scientists in the development of health resorts in eastern Galicia (part of the Austrian monarchy after 1772, and since 1918 as part of independent Poland, now part of Ukraine) is unquestionable; however, awareness of this fact is not that common. Meanwhile, also due to their work and activity, small borderland resorts became important medical, cultural and social centers of the region. The involvement of Jewish doctors in the development of Galician health resorts resulted from, among others, the rich and multi-layered tradition and integration of Judaism with the hygiene regulations and moral principles of the religion. The eastern Galicia health resort culture, architecture, style of how free time was spent, along with treatment and disease prevention, contributed to a European identity in the region.
Aim
This article constitutes an attempt to restore the memory of places and people who created the phenomenon of Galician health resorts, an important social amenity and whose contribution to this process is completely forgotten or omitted. Most of the physicians mentioned in this article died in concentration camps or were murdered by the Nazis.
Methods
The article is based on the analysis of source texts drawn up in the German and Polish languages, including biographical archives, books, scientific articles, ego documents and press reports from the decades before WW I.
Results
On the European level, eastern Galicia resorts were new resorts and the development took place mainly around 1900. The Jewish community constitutively contributed to the medical, economic and cultural development of the resorts. Its role in creating a resort culture is related both to the activity of the Jewish intelligentsia and wealthy bourgeoisie, as well as local craftsmen, tavern owners or shopkeepers. It resulted from a wealthy and multi-layered Jewish tradition and the integration of Judaism with the orders of hygiene and moral principles of religion.