01.10.2013 | original article | Ausgabe 5/2013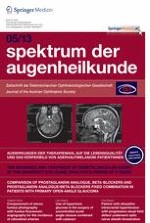 The incidence and treatment of diabetic macular edema at the University Eye-Clinic Graz for a period of 2 years
Zeitschrift:
Autoren:

Dr Monja Michelitsch, Priv-Doz Dr Vanessa Gasser-Steiner, Univ -Prof Dr phil Peter Gasser-Steiner
Summary
Background
A leading cause for permanent vision loss in diabetic patients with diabetic retinopathy is the occurrence of diabetic macular edema. New treatments, antivascular endothelial growth factors, for diabetic macular edema (DME) have been under trial and found to improve visual acuity more effective than the standard care treatment, central photocoagulation. The purpose of the following study was to estimate the future number of visiting DME patients and their treatment demands at the University Eye-Clinic Graz.
Material and methods
A retrospective 2-year-analysis was performed on all eyes of patients with initial occurrence of diabetic macular edema, visiting the University Eye Clinic Graz between 1 July 2009 and 31 June 2011. Main outcome was to establish a 2-year-incidence for DME at the University Eye Clinic Graz. Further assessments were the distribution of treatments received and the number of intravitreal medication applied.
Results
The incidence rate for the first year period was 105 persons and for the second year period 101 persons. Of the 226 treated eyes, 40.1 % received "laser treatment plus bevacizumab injections", 25.2 % "laser treatment", 21.1 % "bevacizumab injections" and 13.2 % "additional triamcinolone acetonide injections". During the 2 years a total number of 343 intravitreal injections were administered, of which 293 were bevacizumab injections with the majority of bevacizumab treated eyes receiving 1–2 injections.
Conclusions
There seems to be a seasonal influence increasing the development of diabetic macular edema. The high treatment demands of DME with foveal involvement have made antivascular endothelial growth factors essential in the treatment of diabetic macular edema.