01.06.2016 | original article | Ausgabe 2/2016 Open Access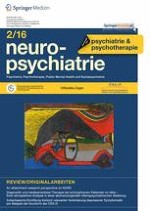 The importance of statistical modelling in clinical research
Comparing multidimensional Rasch-, structural equation and linear regression models for analyzing the depression of relatives of psychiatric patients
Zeitschrift:
Autoren:

Ao. Univ.-Prof. Mag. Dr. Rainer W. Alexandrowicz, Rebecca Jahn, Fabian Friedrich, Anne Unger
Summary
Background
Various studies have shown that caregiving relatives of schizophrenic patients are at risk of suffering from depression. These studies differ with respect to the applied statistical methods, which could influence the findings. Therefore, the present study analyzes to which extent different methods may cause differing results.
Methods
The present study contrasts by means of one data set the results of three different modelling approaches, Rasch Modelling (RM), Structural Equation Modelling (SEM), and Linear Regression Modelling (LRM).
Results
The results of the three models varied considerably, reflecting the different assumptions of the respective models.
Conclusions
Latent trait models (i. e., RM and SEM) generally provide more convincing results by correcting for measurement error and the RM specifically proves superior for it treats ordered categorical data most adequately.