01.07.2013 | original article | Ausgabe 13-14/2013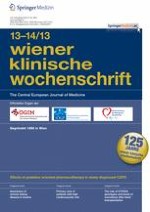 The early prediction of neonatal morbidity and mortality in singleton small for gestational age infants with a birthweight < 1,500 g
Zeitschrift:
Autoren:

MD Monika Olischar, Dr. Agnes Messerschmidt, Dr. Andreas Repa, Dr. Katrin Klebermasz-Schrehof, Dr. Michael Weber, Prof. Arnold Pollak, Prof. Harald Leitich
Summary
Objective
Identify factors for discrimination of "high" and "low risk" small for gestational age infants.
Study design
Singleton infants born small for gestational age with a birthweight <1,500 g between 1999 and 2007 were included. Maternal, placental, and infant related factors were analyzed with regard to mortality and morbidity. Patients who died or suffered from complications were defined "high risk" as opposed to "low risk". Parameters associated with "high risk" were identified and an equation established to predict the minimal expected probability to die or suffer from neonatal morbidity.
Results
Around 231 patients showed a mortality rate of 12.6 %, respiratory distress syndrome in 35.5 %, necrotizing enterocolitis in 8.2 % and neurological morbidities in 6.5 %. Of these, 58.9 % survived without complications. The factors for discrimination of "high" and "low risk" were Z-score of birth weight, gestational age, and pH.
Conclusion
We facilitate prognostication by classifying small for gestational age preterms into "low" and "high risk".