17.05.2018 | main topic | Ausgabe 3/2018 Open Access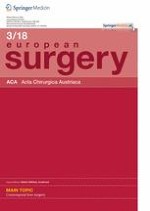 Surgical techniques and strategies for the treatment of primary liver tumours: hepatocellular and cholangiocellular carcinoma
Zeitschrift:
Autoren:

Eva Braunwarth, Stefan Stättner, Margot Fodor, Benno Cardini, Thomas Resch, Rupert Oberhuber, Daniel Putzer, Reto Bale, Manuel Maglione, Christian Margreiter, Stefan Schneeberger, Dietmar Öfner, MD Florian Primavesi
Summary
Background
Owing to remarkable improvements of surgical techniques and associated specialities, liver surgery has become the standard of care for hepatocellular carcinoma and cholangiocarcinoma. Although applied with much greater safety, hepatic resections for primary liver tumours remain challenging and need to be integrated in a complex multidisciplinary treatment approach.
Methods
This literature review gives an update on the recent developments regarding basics of open and laparoscopic liver surgery and surgical strategies for primary liver tumours.
Results
Single-centre reports and multicentre registries mainly from Asia and Europe dominate the surgical literature on primary liver tumours, but the numbers of randomized trials are slowly increasing. Perioperative outcomes of open liver surgery for hepatocellular and cholangiocellular carcinoma have vastly improved over the last decades, accompanied by some progress in terms of oncological outcome. The laparoscopic approach is increasingly being applied in many centres, even for patients with underlying liver disease, and may result in decreased morbidity. Liver transplantation represents a cornerstone in the treatment of early hepatocellular carcinoma and is indispensable to achieve long-term survival. In contrast, resection remains the gold standard for cholangiocarcinoma in most countries, but interventional techniques are on the rise.
Conclusion
Liver surgery for primary tumours is complex, with a need for high expertise in a multidisciplinary team to achieve acceptable outcomes. Technical developments and clinical stratification tools have optimized individual care, but further improvements in oncological survival will likely require enhanced pre- and postoperative systemic and local treatment options.