07.03.2019 | Neurologie | Ausgabe 2/2019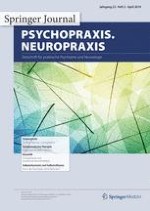 Sudomotor Dysfunction in a Patient with Primary Progressive Multiple Sclerosis
Zeitschrift:
Autoren:

Ivan Adamec, MD, PhD Mario Habek
Wichtige Hinweise
Publisher's Note
Springer Nature remains neutral with regard to jurisdictional claims in published maps and institutional affiliations.
Abstract
Autonomic dysfunction (AD) is known to be frequent among multiple sclerosis (MS) patients, even in early stages of the disease. During the course of disease, AD becomes more pronounced, with patients in progressive stages of MS experiencing a higher autonomic burden than MS patients in relapsing-remitting stages. The same pattern of AD progression is true for sudomotor dysfunction, with 35% of MS patients with a relapsing-remitting phenotype experiencing sudomotor dysfunction compared to 73% of MS patients with a progressive phenotype. We present the case of a patient with primary progressive MS suffering from severe sudomotor dysfunction. The presented patient had avoided physical therapy as he could not tolerate the accompanying temperature rise. One way to deal with this obstacle is to cool the patient down prior to physical therapy or let the patient workout at a cooler room temperature. From a research point of view, sudomotor dysfunction detected in MS patients may actually be a sign of small fiber neuropathy and not just a reflection of central nervous system dysfunction, a possibility which requires further investigation.