10.11.2020 | main topic | Ausgabe 21-22/2020 Open Access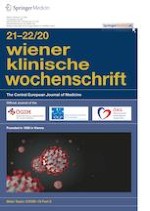 Structured ICU resource management in a pandemic is associated with favorable outcome in critically ill COVID‑19 patients
Zeitschrift:
Autoren:

Sebastian J. Klein, Romuald Bellmann, Hannes Dejaco, Stephan Eschertzhuber, Dietmar Fries, Wilhelm Furtwängler, Lukas Gasteiger, Walter Hasibeder, Raimund Helbok, Christoph Hochhold, Stefanie Hofer, Lukas Kirchmair, Christoph Krismer, Eugen Ladner, Georg F. Lehner, Simon Mathis, Andreas Mayr, Markus Mittermayr, Andreas Peer, Christian Preuß Hernández, Bruno Reitter, Mathias Ströhle, Michael Swoboda, Claudius Thomé, M.D. Prof. Michael Joannidis
Wichtige Hinweise
Electronic supplementary material
Publisher's Note
Springer Nature remains neutral with regard to jurisdictional claims in published maps and institutional affiliations.
Summary
Introduction
On February 25, 2020, the first 2 patients were tested positive for severe acute respiratory syndrome coronavirus‑2 (SARS-CoV-2) in Tyrol, Austria. Rapid measures were taken to ensure adequate intensive care unit (ICU) preparedness for a surge of critically ill coronavirus disease-2019 (COVID-19) patients.
Methods
This cohort study included all COVID-19 patients admitted to an ICU with confirmed or strongly suspected COVID-19 in the State of Tyrol, Austria. Patients were recorded in the Tyrolean COVID-19 intensive care registry. Date of final follow-up was July 17, 2020.
Results
A total of 106 critically ill patients with COVID-19 were admitted to 1 of 13 ICUs in Tyrol from March 9 to July 17, 2020. Median age was 64 years (interquartile range, IQR 54–74 years) and the majority of patients were male (76 patients, 71.7%). Median simplified acute physiology score III (SAPS III) was 56 points (IQR 49–64 points). The median duration from appearance of first symptoms to ICU admission was 8 days (IQR 5–11 days).
Invasive mechanical ventilation was required in 72 patients (67.9%) and 6 patients (5.6%) required extracorporeal membrane oxygenation treatment. Renal replacement therapy was necessary in 21 patients (19.8%). Median ICU length of stay (LOS) was 18 days (IQR 5–31 days), median hospital LOS was 27 days (IQR 13–49 days).
The ICU mortality was 21.7% (23 patients), hospital mortality was 22.6%. There was no significant difference in ICU mortality in patients receiving invasive mechanical ventilation and in those not receiving it (18.1% vs. 29.4%,
p
 = 0.284). As of July 17th, 2020, two patients are still hospitalized, one in an ICU, one on a general ward.
Conclusion
Critically ill COVID-19 patients in Tyrol showed high severity of disease often requiring complex treatment with increased lengths of ICU and hospital stay. Nevertheless, the mortality was found to be remarkably low, which may be attributed to our adaptive surge response providing sufficient ICU resources.