29.01.2019 | case report | Ausgabe 2/2019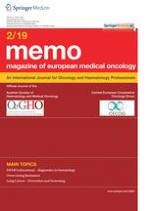 Solitary scalp metastatic lesion as a sign of breast cancer recurrence—a case report
Zeitschrift:
Autoren:

MD Ahmed A. M. Abdelhafeez, MD Wael Ibrahim, MD Wessam Elsherief
Wichtige Hinweise
Publisher's Note
Springer Nature remains neutral with regard to jurisdictional claims in published maps and institutional affiliations.
Summary
Background
Scalp tumors are rare and account only for 2%. Nevertheless, the scalp region accounts for 4–6.9% of all cutaneous metastases. Metastatic cutaneous lesions are more often found in women with breast cancer than in those with other internal malignancies.
Results
A 59-year-old woman, who had been clinically diagnosed with stage-IIIA (T3 N2a M0) invasive ductal right breast carcinoma in August 2015, was treated by neoadjuvant chemotherapy with good partial response. Breast conservative surgery was done and she received post-operative adjuvant radiotherapy and hormonal treatment with letrozole. Two years later, the patient noticed a slowly growing, painless scalp nodule. A PET-CT scan was performed and demonstrated scalp mass at the left temporal region. Excisional biopsy was performed; histopathologic examination revealed poorly differentiated adenocarcinoma. In addition, detailed immunohistochemical staining was performed. Accordingly, patient was given radiotherapy and second line hormonal treatment was added, with disease-free survival of one year.
Conclusions
Despite its rarity, solitary scalp metastasis should be considered in the differential diagnosis in patients with a history of cancer especially breast cancer.