01.02.2017 | original article | Ausgabe 3-4/2017 Open Access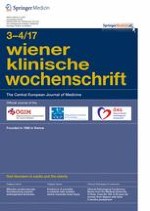 Similar impact of multiple sclerosis and migraine on sexual function in women
Is the multiple sclerosis impact scale questionnaire useful?
Zeitschrift:
Autoren:

Sabine Salhofer-Polanyi, Christian Wöber, Ricarda Prohazka, Assunta Dal-Bianco, Barbara Bajer-Kornek, Karin Zebenholzer
Summary
Background
Sexuality is an integral part of overall health but the impact of neurological diseases on sexual function still receives too little attention.
Aim
The aim of this case control study was to compare frequencies and characteristics of sexual dysfunction in women with stable relapsing-remitting multiple sclerosis (MS) and migraine.
Methods
Sexually active women aged 18–50 years were recruited at the MS and headache outpatient clinics of a university hospital and asked to complete questionnaires on sexual function using the multiple sclerosis intimacy and sexuality questionnaire (MSISQ-19) adapted for patients with migraine, depression using the Beck depression inventory (BDI-II) and quality of life using the short form-36 questionnaire (SF-36).
Results
At least one symptom of sexual dysfunction was "almost always" or "always" present in 35.7 % of 42 patients with MS and in 22.6 % of 30 patients with migraine (
p
= 0.3). The MSISQ-19 total score did not differ between the two groups (31.6 ± 10.8 vs. 28.2 ± 11.6, respectively,
p
= 0.2). Sexual dysfunction was categorized as primary, secondary and tertiary in 66.7 %, 40 % and 33.3 % of MS patients and in 57.1 % (
p
= 0.7), 71.4 % (
p
= 0.2) and 71.4 % (
p
= 0.1) of migraine patients, respectively. Depressive symptoms were more common in women with sexual dysfunction than in those without both in MS (
p
= 0.001) and migraine (
p
= 0.006). The SF-36 showed decreasing quality of life with increasing MSISQ-19 sum scores (mental subscale
p
< 0.001 and physical subscale
p
= 0.04).
Conclusions
Sexual dysfunction is a major problem both in women with MS and in women with migraine and is strongly associated with comorbid depression and impaired quality of life. Thus, categorizing sexuality as done by MSISQ-19 is limited by its complex biopsychosocial interactions.