01.12.2012 | short review | Ausgabe 4/2012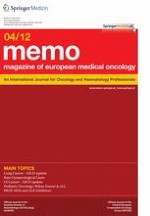 Significant heterogeneity between centers during early evaluation of the first Turkish multi-centric study in the treatment of childhood acute lymphoblastic leukemia
Zeitschrift:
Autor:

Lebriz Yüksel-Soycan
Abstract
Background
The key of success in the treatment of pediatric acute lymphoblastic leukemia (ALL) has been the conduct of multi-centric clinical studies. With the aim of repeating the favorable results reported by the BFM group and reaching uniformity in diagnosis and treatment, the first Turkish multi-centric study in the treatment of pediatric ALL, BFM-TR ALL 2000, was opened to patient accrual in January 2000.
Methods
A total of 2,685 patients 0–18 years old from 32 different centers were registered until 31 December 2010. The treatment was a modified BFM-ALL 95 protocol. There was a common database, but no central morphological review.
Results
The median age was 5.2 years and the male:female ratio was 1.4. The median white blood cell (WBC) count was 13,900/μl and 14 % of the patients had a WBC count > 100,000/μl. Initial central nervous system involvement was seen in 3.5 % (range 0–13 %) of the patients and 18 % (4–13 %) had T-ALL. During induction, 0.5 % of the patients abandoned treatment and 2.5 % toxic deaths (range 0–9.2 %) resulted in 96.4 % remission rate. Non-relapse related mortality (8.7 %, range 0–15.9 %) was an important cause of failure early in remission and 3 % of the patients dropped-out before treatment was completed. Poor prednisone response rate was 14.5 % (range 4.3–27.2 %) and non-remission rate on day 33 was 4.5 % (range 0–23 %).
Conclusions
Lack of a centralized laboratory diagnosis or reference evaluation precludes any explanation of the heterogeneity of the clinical and laboratory values. The high percentage of deaths in remission is a major cause of failure.