01.09.2016 | original article | Ausgabe 17-18/2016 Open Access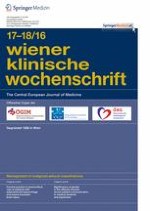 Significance of gender in the attitude towards doctor-patient communication in medical students and physicians
Zeitschrift:
Autoren:

Prof. Dr. Henriette Löffler-Stastka, Dr. Tamara Seitz, Dr. Sabrina Billeth, Dr. Barbara Pastner, Dr. Ingrid Preusche, Charles Seidman
Summary
Background
Gender-specific differences in the attitudes towards doctor-patient communication among medical students and physicians were assessed.
Methods
A total of 150 medical students and 51 physicians from different departments took part in the study. The association, attitude and experiences regarding doctor-patient communication were assessed with a series of tools and questionnaires.
Results
Female doctors and students tended to describe the doctor-patient communication with positive attributes, such as
"helpful", "sentimental", "voluble", "sociable", "gentle", "yielding"
and "
peaceful"
. Male students and physicians, on the other hand, described doctor-patient communication as
"overbearing", "robust"
and
"inhibited"
. The most frequent associations females had with the term doctor-patient communication were
"empathy", "confidence", "openess
", while the most frequent association of the male colleagues was
"medical history".
Female doctors reported speaking about the psychosocial situation of the patient significantly more often and believed in higher patient satisfaction by sharing more information. Furthermore, they reported having longer conversations with a more equal partnership than their male colleagues. Compared to male students, female students were willing to take part in training their communication skills more often and had more interest in research about doctor-patient communication. Male medical students reported self-doubt during conversations with female patients, while one third of the male physicians talked about "
the power over the patient
".
Conclusions
This study indicates a gender-dependent communication style influenced by stereotypes. At the establishment of communication training these differences should be taken into account, especially to strengthen male communication skills and improve their attitudes.