01.06.2014 | Original Article | Ausgabe 3/2014 Open Access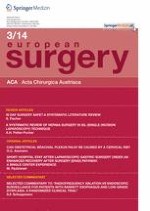 Short hospital stays after laparoscopic gastric surgery under an Enhanced Recovery After Surgery (ERAS) pathway: experience at a single center
Zeitschrift:
Autoren:

PhD M. Pędziwiatr, PhD M. Matłok, M. Kisialeuski, PhD M. Migaczewski, P. Major, PhD M. Winiarski, PhD P. Budzyński, PhD A. Zub-Pokrowiecka, Prof. A. Budzyński
Summary
Introduction
Recently, first reports on benefits from Enhanced Recovery After Surgery (ERAS) pathway in patients undergoing gastric surgery have appeared. It seems that maximal reduction of unfavorable surgery-induced trauma in patients with gastric malignancy via ERAS protocol combined with minimally invasive techniques can improve outcomes.
Objective
The aim of this study was to determine the influence of laparoscopic surgery and ERAS protocol in oncological gastric surgery on early outcomes.
Materials and methods
Prospective analysis involved 28 patients (18 female and 10 male) with gastric malignancy who underwent laparoscopic gastric resection between 2009 and 2013. Gastric tumors (gastrointestinal stromal tumors or adenocarcinoma) were the indication for the surgery. A total of 17 patients underwent laparoscopic local excision, and 11 patients with adenocarcinoma or multiple neuroendocrine tumors underwent laparoscopic D2 total gastrectomy. Perioperative care was based on ERAS principles. Length of hospital stay, postoperative course, perioperative complications, and readmission rates were analyzed.
Results
There was one conversion in the gastrectomy group. All patients were mobilized on the day of surgery. Oral fluids were introduced on day 0 and were well tolerated. Full hospital diet was started on day 2 in all patients, but was well tolerated in only 18 of them. One postoperative complication requiring reoperation was noted. The length of stay after gastrectomy and gastric wedge resection was 4.6 (2–6) and 3.3 (2–6) days, respectively. No readmissions were noted in the entire group.
Conclusions
The implementation of ERAS protocol to clinical practice in combination with laparoscopy in patients with gastric tumors can result in improved postoperative care quality, shortening of hospital stay, and quicker return to normal activity.