01.06.2016 | original article | Ausgabe 2/2016 Open Access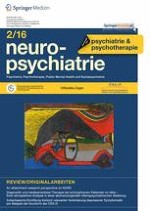 Self-reported and informant-reported memory functioning and awareness in patients with mild cognitive impairment and Alzheimer´s disease
Zeitschrift:
Autoren:

Martina Rios Silva, Doris Moser, Melanie Pflüger, Gisela Pusswald, Elisabeth Stögmann, Peter Dal-Bianco, Eduard Auff, Ass. Prof. Priv. Doz. Mag. Dr. Johann Lehrner
Summary
Background
Awareness of subjective memory is an important factor for adequate treatment of patients with mild cognitive impairment (MCI) and Alzheimer's disease (AD). This study served to find out whether awareness of subjective memory complies with objective performance, if differences in awareness are observed longitudinally and whether decrease of awareness can serve as a predictor of AD in MCI patients.
Methods
Thirty-four patients with MCI seeking help in a memory outpatient clinic were included. All participants underwent thorough neuropsychological examination. Awareness of subjective memory was obtained by calculating difference scores between patient and informant ratings on a 16-item questionnaire concerning complaints about loss of memory in every-day life. Retesting was performed after a mean follow-up period of 24 months.
Results
Whole group analyses showed that awareness remained relatively stable across time. Self-reported memory complaints correlated with episodic memory at baseline and with performance on a language task at follow-up. Retests displayed decrease of awareness. At group level differences in awareness between both times of assessment were not significant for MCI and MCI patients converting to mild AD at follow-up. The predictive value of awareness was low.
Conclusions
Awareness of subjective memory deficit is linked to episodic memory function and decreases with decline of cognitive ability. Further studies evaluating predictive power of awareness of subjective memory should include a larger patient sample.