15.08.2018 | short review | Ausgabe 3/2018 Open Access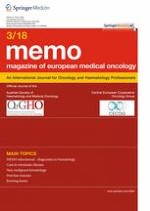 SABCS 2017 pathology: from bench to bedside
Zeitschrift:
Autor:

Assoc. Prof. Dr. Zsuzsanna Bago-Horvath
Summary
The 40th International San Antonio Breast Cancer Symposium offered a multifaceted platform for the presentation of several innovative therapeutic approaches. The results of these preclinical and clinical studies provided insight into the development of novel therapy concepts from the laboratory bench to the bedside of breast cancer patients. One main focus of last year's symposium was the search for synergisms and opportunities for collaboration between basic research scientists and investigators in drug development. Highlights of these topics included preclinical data on selective estrogen receptor covalent antagonists (SERCAs), the discovery of immune-modulating effects of demethylating agents as well as the exact characterization and risk assessment of
BRCA2
mutations of previously unknown significance. Pathological advances aimed at the molecular understanding of intratumoral heterogeneity and the evolution of lobular breast cancer. Beyond preclinical discoveries at the molecular level, clinical studies provided evidence on the duration of adjuvant bisphosphonate treatment and the use of the EndoPredict multigenomic assay to predict response to neoadjuvant chemo- and endocrine therapy. The SUCCESS A study reported that the prolonged adjuvant administration of zoledronic acid for 5 years did not improve patient survival after chemotherapy. A translational analysis of the ABCSG 34 trial revealed that the EndoPredict multigenomic assay could identify patients who do not benefit from neoadjuvant endocrine or chemotherapy. These recent advances are likely to promote individualized breast cancer care.