31.08.2018 | original article | Ausgabe 1-2/2019 Open Access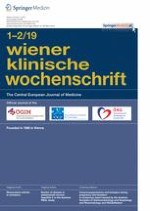 Rheumatoid arthritis in remission
Decreased myostatin and increased serum levels of periostin
Zeitschrift:
Autoren:

MD Ass. Prof. Katharina Kerschan-Schindl, Gerold Ebenbichler, Ursula Föeger-Samwald, Harald Leiss, Christina Gesslbauer, Malvina Herceg, Georg Stummvoll, Rodrig Marculescu, Richard Crevenna, Peter Pietschmann
Summary
Background
Chronic inflammation of rheumatoid arthritis (RA) is associated with disturbances in muscle and bone metabolism.
Aim
The purpose of this study was to investigate whether endocrine regulators of myogenesis and bone metabolism in patients with rheumatoid arthritis (RA) in remission differed from unaffected healthy controls. An additional point was whether these were associated with patients' health-related functioning or particular bodily functions of the International Classification of Functioning, Disability and Health (ICF).
Methods
Bone turnover and the markers for muscle, i.e. myostatin (MSTN), follistatin (FSTN), growth differentiation factor (GDF-15) and for bone, i.e. sclerostin (SOST), dickkopf 1 (Dkk1), periostin (PSTN) metabolism were determined in 24 female RA patients and matched healthy controls. The chair rising test (CRT), timed up and go test (TUG), 6 min walking test, maximum hand grip and back extensor strength tests were used to assess patients' health-related functions. Additionally, bone mineral density of the lumbar spine and the hip region was measured.
Results
For the bone turnover markers no differences were observed between patients and controls. In contrast, the markers MSTN and Dkk1 were significantly lower and FSTN and PSTN significantly higher in patients than controls. Patients performed worse in the CRT and TUG. Some correlations reflected associations between these endocrine factors and physical function.
Conclusion
Anti-inflammatory therapy may be responsible for the positive effect on endocrine factors influencing myogenesis. Elevation of PSTN probably reflects the increased risk of fragility fractures in RA patients.