01.04.2017 | original article | Ausgabe 7-8/2017 Open Access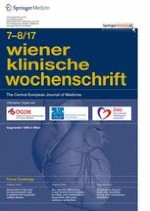 Results of a population-based-assessment: we need better communication and more profound patient involvement
Zeitschrift:
Autoren:

Gerald Sendlhofer, Gudrun Pregartner, Karina Leitgeb, Magdalena Hoffmann, Andrea Berghold, Christian Smolle, Gernot Brunner, Lars Peter Kamolz
Summary
Background
In Austria several regulations were published in order to support initiatives to increase patient safety. Since then, many patient safety projects were implemented in Austrian hospitals; therefore, it was the aim of the current survey to examine the perceptions of Austrian citizens with respect to topics relevant to patient safety.
Methods
Between 8 and 22 October 2015 a qualitative cross-sectional telephone interview study was performed. A sample of citizens above 14 years of age was randomly drawn. The survey contained 6 questions. In each of the nine states of Austria, a representative number of citizens were interviewed.
Results
In total 1021(female: 52.3%) telephone interviews were performed and 249 (24.7%) citizens stated that trust/confidence in patient safety is very high, 571 (55.9%) assessed the reputation of a hospital as very important and 739 (72.4%) stated that a detailed explanation of the treatment as well as information on associated risk factors and possibilities of further treatments is very important. Of the respondents 722 (70.7%) stated that patient safety measures in a given hospital are very important, 807 (79.0%) stated that it is important to be informed about patient safety measures and 547 (53.6%) stated that if something did not satisfactorily function they would complain to the hospital. Significant differences occurred for states with and without university hospitals.
Conclusion
The results of the survey give cause for concern as the majority of interviewed citizens have medium or low trust/confidence in patient safety. Furthermore, more than two-thirds of Austrian citizens revealed that detailed explanation of treatment, information on associated risk factors, information about patient safety measures to predict medical errors and information about patient safety measures which are in place in a hospital are very important. The study showed that patient safety is an important topic for Austrian citizens and they want to be informed and involved. The study also indicated the need to promote patient safety aspects and to decrease the number of people who are not confident concerning patient safety in Austrian hospitals.