27.04.2018 | short report | Ausgabe 11-12/2018 Open Access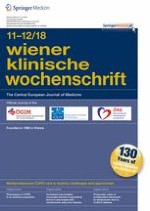 Restricted working hours in Austrian residency programs
Survey results
Zeitschrift:
Autoren:

M.D. Ph.D Konstantin D. Bergmeister, M.D. Martin Aman, M.D. Bruno K. Podesser
Wichtige Hinweise
The original version of this article was revised: The original version of this article unfortunately contained a mistake. The presentation of the sentence "limiting on-duty working hours to 58 h per week." was incorrect. The correct limitation of the on-duty working hours is 48 h per week.
Summary
Background
New regulations for working hours of medical doctors have been implemented in Austria based on the European directive 2003/88/EG, limiting on-duty working hours to 48 h per week. Clinical work is, therefore, substantially reduced compared to previous decades, and little is known on physician and students' opinions on this matter. We illustrate survey results concerning on-job training, its difficulties, and implications for restricted working hours.
Methods
We conducted an internal survey among M.D. and Ph.D. students and medical staff members at the Medical University of Vienna using the MedCampus system (CAMPUSOnline, Graz, Austria) and SPSS (V.21, IBM Corp, Armonk, NY, USA).
Results
Participants were 36.5% staff members and 63.5% students. Students rated continuous education of physicians high at 9.19 ± 1.76 and staff members at 8.90 ± 2.48 on a 1–10 (1 unimportant, 10 most important) scale. Students rated limited time resources, while staff considered financial resources as the greatest challenge for in-hospital education. Overall, 28.85% thought that restricted working hours can positively influence education, while 19.04% thought the opposite and 52.11% were undecided.
Discussion
Considering the limited available time and financial resources, education of tomorrow's medical doctors remains an important but difficult task. While participants of our survey rated education as very important despite its many challenges, the opinions towards limited working hours were not as clear. Given that over 50% are still undecided whether reduced work hours may also positively influence medical education, it clearly presents an opportunity to include the next generations of physicians in this undertaking.