18.04.2019 | short review | Ausgabe 2/2019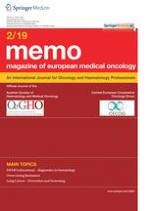 Resistance to epidermal growth factor receptor tyrosine kinase inhibitors in mutated non-small cell lung cancer: new avenues and strategies to overcome resistance
Zeitschrift:
Autor:

Dr. Gudrun Absenger
Wichtige Hinweise
Publisher's Note
Springer Nature remains neutral with regard to jurisdictional claims in published maps and institutional affiliations.
Summary
The most common driver mutation in non-small cell lung cancer (NSCLC) is found within the tyrosine kinase domain of the epidermal growth factor receptor (EGFR). It commonly affects younger, female, and non-smoking patients. To date, there are five approved tyrosine kinase inhibitors (TKIs) for the treatment of EGFR-mutated NSCLC: erlotinib, gefitinib, the second-generation TKI afatinib and dacomitinib, and the third-generation TKI osimertinib. Sequencing TKI treatment or starting with osimertinib first are reasonable treatment strategies. Nevertheless, patients develop resistance to these TKIs, which can be primary or acquired. Primary resistance includes resistance mutations such as EGFR insertion 20, acquired resistance comprises the development of resistance mutations, activation of bypass signaling, or histological transformation into small cell lung cancer.
This article summarizes the current landscape of treatment in EGFR-mutated lung cancer and discusses the different resistance mechanisms. It gives a perspective on novel EGFR TKIs and potential combination strategies to overcome resistance.