21.02.2019 | review | Ausgabe 2/2019 Open Access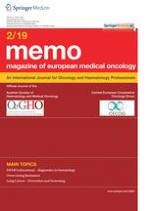 Resistance to chemotherapy and anti-angiogenic therapy in ovarian cancer
Zeitschrift:
Autoren:

MD, PhD Verena Wieser, MD, PhD Christian Marth
Wichtige Hinweise
Publisher's Note
Springer Nature remains neutral with regard to jurisdictional claims in published maps and institutional affiliations.
Summary
Ovarian cancer (OC) is the foremost lethal gynaecologic malignancy and among the top five deadliest cancers in women. Current treatment comprises a combination therapy of surgery, platinum-based chemotherapy and anti-vascular endothelial growth factor (VEGF) antibodies. However, patients typically experience a disease relapse within two years. Recurrent OC is incurable and resistance to platins and anti-VEGF treatment is a major determinant of prognosis. Understanding the molecular mechanisms that contribute to tumour metastasis and chemoresistance are essential to improve patient outcome and especially survival. In a current OC model, tumour metastasis and chemoresistance critically depend on the biology of cancer stem cells (CSCs). Recent studies also suggest that intratumour heterogeneity is the main cause of treatment failure due to chemoresistance. Furthermore, the proinflammatory tumour microenvironment seems to contribute to metastasis and chemoresistance. Despite an improved understanding of the complex interplay between classical mechanisms of drug inactivation or efflux, clonal selection and the tumour microenvironment, mechanisms of resistance in human OC are poorly understood. This review summarises current concepts in the treatment of OC, mechanisms of resistance to chemotherapy and angiogenic inhibitors and approaches to overcome drug resistance.