07.01.2019 | original article | Ausgabe 1/2019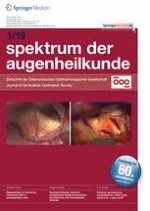 Repeatability of wavefront measurements in pseudophakic eyes
Zeitschrift:
Autoren:

Dr. Christoph Leisser, PD Dr. Nino Hirnschall, Dr. Marlies Ullrich, MD, MBA Prof. Oliver Findl
Summary
Background
Higher- as well as lower-order aberrations influence uncorrected visual quality after successful cataract surgery. Different techniques are used for measuring ocular wavefront aberrations, such as Hartmann–Shack aberrometers, laser ray tracing aberrometers, and automatic retinoscopy. The aim of our study was to assess the repeatability of a Hartmann–Shack aberrometer measurement in a pseudophakic study population.
Methods
This prospective study included patients who underwent cataract surgery 1 month prior to recruitment. Three consecutive Hartmann–Shack measurements (WASCA, Carl Zeiss Meditec AG, Germany) were performed after pharmacological dilation of the pupil.
Results
In total, 156 eyes of 156 patients were included. Repeatability of measurements was good in pseudophakic eyes for all Zernike polynomials up to the fourth order. The median values of the SD of all three measurements ranged between 0.042 and 0.125 for the Tecnis intraocular lens (IOL) and 0.028 and 0.148 for the CT Asphina 409MP IOL. Intraclass correlation coefficients ranged between 0.793592 and 0.97955 for the Tecnis IOL and between 0.673894 and 0.989172 for the CT Asphina 409MP IOL.
Conclusion
Postoperative unsatisfactory image quality, sometimes reported by patients, despite good defocus and astigmatism values calls for examination of higher-order aberrations. Hartmann–Shack measurements with the WASCA offers good repeatability in pseudophakic patients and, therefore, fulfills this task.