Erschienen in: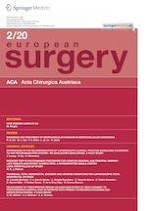 03.09.2019 | original article
Relationship of preoperative serum calcium and extent of neck surgery to postoperative hospital stay in patients with primary hyperparathyroidism and severe bone disease. A case series
Erschienen in: European Surgery | Ausgabe 2/2020
Einloggen, um Zugang zu erhalten
Summary
Introduction
After parathyroidectomy for patients with severe osteoporosis, hospital stay is likely to be prolonged because of rebound severe hypocalcemia. There is currently no method that predicts the occurrence of such an adverse effect. This study aimed to investigate preoperative serum calcium level and extent of neck surgery as predictors of the length of postoperative hospitalization.
Patients and methods
Fifty-five patients with primary hyperparathyroidism and severe bone disease had parathyroidectomies, 27 by a conventional bilateral exploration and 28 by focused unilateral surgery. The duration of postoperative hospitalization was tested for correlation to preoperative total serum calcium and to the extent of neck surgery.
Results
The median postoperative hospital stay was five days. After conventional exploration it was eight days, and after focused parathyroidectomy it was three days, a highly significant difference. Preoperative total calcium had an insignificant weak positive correlation with hospital stay.
Conclusion
For primary hyperparathyroidism with severe bone disease, focused unilateral parathyroidectomy is likely to reduce the duration of postoperative hospital stay. Preoperative total serum calcium is not a reliable predictor of hospital stay in this subset of patients.