01.12.2016 | special report | Ausgabe 4/2016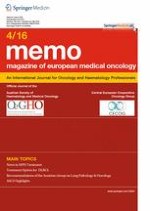 Recommendations of the Austrian Working Group on Pulmonary Pathology and Oncology for predictive molecular and immunohistochemical testing in non-small cell lung cancer
Zeitschrift:
Autoren:

Helmut H. Popper, Ulrike Gruber-Mösenbacher, Georg Hutarew, Maximilian Hochmair, Gudrun Absenger, Luka Brcic, Leonhard Müllauer, Gerhard Dekan, Ulrike Setinek, Dagmar Krenbek, Michael Vesely, Robert Pirker, Wolfgang Hilbe, Rainer Kolb, Gerald Webersinke, Tamara Hernler, Georg Pall, Sigurd Lax, Andrea Mohn-Staudner
Summary
The introduction of epidermal growth factor receptor (EGFR) tyrosine kinase inhibitors (TKI) in the therapy of non-small cell lung cancer (NSCLC) with activating mutations of the EGF receptor has opened a new area of lung cancer treatment strategies and led to an enthusiastic search for additional genetic aberrations. Genetic drivers such as
EML4-ALK
(EML4: echinoderm microtubule-associated protein-like 4; ALK: anaplastic lymphoma kinase) and proto-oncogene tyrosine protein kinase transcribed from the ROS1-gene (ROS1) rearrangements have been detected and specific treatment options have been developed. A new approach to treatment in lung cancer is immunotherapy by antibodies interfering with immune checkpoint controls. Diagnostic and predictive immunohistochemical staining and molecular tests have to follow specific rules, if applied in daily practice. The Austrian Working Group on Pulmonary Pathology and Oncology (AWGPPO) has presented an updated version of the previous recommendations published in 2013. Questions raised during the past 3 years will be addressed: selection of tissue, order of diagnostic immunohistochemical and molecular tests, "reflex" testing, the issue of resistance mechanisms, significance of liquid biopsies, and use and interpretation of antibody reactions for immune checkpoint markers.