01.12.2013 | special report | Ausgabe 4/2013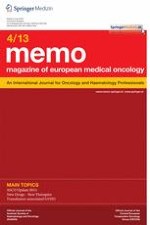 Recent developments in the palliative treatment of breast cancer: ASCO 2013
Zeitschrift:
Autoren:

MD Univ. Prof. Dr. Edgar Petru, Univ. Ass. Dr. Tina Idris, Univ. Ass. Dr. Vassilliki Kolovetsiou, Univ. Ass. Dr. Eva Schest
Abstract
Purpose
Highly selected abstracts from the ASCO meeting are reported.
Results and conclusions
Abstract #1040: Subgroup analysis of TURANDOT (first-line paclitaxel and bevacizumab (T + BEV) versus capecitabine and BEV) was presented; 130 patients had triple-negative disease. One-year overall survival of T + BEV-treated patients with triple-negative disease was 78 %. Thus, T + BEV may represent a preferred regimen.
Abstract #514: Evidence for drug penetration of capecitabine and lapatinib was demonstrated in resected brain metastases from breast cancer. Patients scheduled for brain surgery received pre-operative therapy. Drug concentrations were detected in all lesions. Thus, capecitabine and lapatinib may penetrate the blood-brain barrier.
Abstract #505: In BOLERO-3, everolimus (EVE) or placebo plus trastuzumab/vinorelbine were administered to trastuzumab-resistant, HER2-positive breast cancer after previous taxanes. In the EVE versus placebo group, median progression-free survival (PFS) was 7.0 versus 5.7 months, respectively. Thus, a positive effect of EVE was found.
Abstract #555: Prognostic factors in HER2-negative breast cancer patients receiving first-line bevacizumab (BEV) plus non-anthracycline therapy were investigated. Negative factors were disease-free interval £ 24 months, liver metastases or ³ 2 involved organs, triple-negativity and adjuvant taxanes/anthracyclines, respectively. Thus, established prognostic factors were also confirmed in BEV-treated patients.
Abstract #1049: Subgroup analyses of the phase-III trial of eribulin versus capecitabine in metastatic breast cancer pre-treated with anthracyclines/taxanes was carried out. Overall survival was predicted by non-visceral disease, > 2 organs involved, and PFS of < 6 months after last chemotherapy. Eribulin was superior in patients with > 2 metastatic sites, HER2-negative, ER-negative, and triple-negative disease, respectively. The latter patients may preferentially benefit from eribulin therapy.