01.08.2013 | Short Communication | Ausgabe 4/2013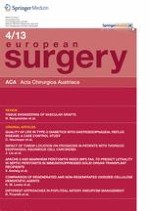 Pseudoangiomatous stromal hyperplasia of excised breast tissue associated with gynecomastia in juvenile and adolescent males
Zeitschrift:
Autoren:

MD H.-F. Selig, E. Bareck, L. Michlmayer, S. Halper, F. Längle, L.-P. Kamolz
Summary
Background
Current literature provides controversies about the need for histologic examination of breast tissue that is excised for gynecomastia in adolescent males. We intended to analyze the histopathologic findings from a large series of juvenile and adolescents treated for gynecomastia.
Methods
Following the design of a retrospective chart review, data of all patients at the age of 21 or younger undergoing surgery for gynecomastia between January 1986 and December 2010 at a large Austrian State Hospital were obtained in an anonymized pattern.
Results
A total of 72 out of 380 patients (19 %) involved juvenile and adolescent males undergoing subcutaneous mastectomy diagnosed for gynecomastia. The histologic examination revealed true fibrotic gynecomastia in 85 %. True fibrotic gynecomastia in combination with PASH was found in 10 % of all cases.
Conclusions
Based on the various pathological histologic findings in our sample, we emphasize the routine histological sampling after surgical excision of breast tissue in gynecomastia to avoid the potential for overlooking pathologies. In view of the prevalence of true gynecomastia combined with PASH, surgeons have to be aware of this entity that is indeed benign with good prognosis but can be misdiagnosed as fibroadenoma or even angiosarcoma.