01.09.2016 | main topic | Ausgabe 11-12/2016 Open Access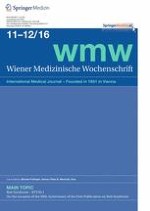 Progress in Rett Syndrome: from discovery to clinical trials
Zeitschrift:
Autor:

MD Alan K. Percy
Wichtige Hinweise
Dedicated to Andreas Rett and Bengt Hagberg, whose initial reports were responsible for the on-going international studies in Rett syndrome.
Summary
Fifty years ago, Andreas Rett described a disorder in 22 females featuring prominent regression of fine motor and communication skills, cognitive impairment, stereotypic movements, periodic breathing, and gait abnormalities. This disorder became known as Rett syndrome (RTT) following the report of Hagberg et al. in 1983. Although RTT was scarcely recognized at that time in the United States, here the efforts of Rett and Hagberg led to rapid progress in recognition and diagnosis, a clearer understanding of its clinical and pathological underpinnings, and, ultimately, identification of mutations in the methyl-CpG-binding protein 2 (
MECP2
) gene as the primary cause of this unique and challenging neurodevelopmental disorder. Thereafter, a natural history study and critical translational research in animal models paved the way for potential disease-modifying agents to be assessed in human clinical trials. To be successful, the energies of the international community at all levels, including researchers in clinical and basic science, funding agencies, pharmaceutical companies, patient advocates, and, above all, parents and their children are essential. Otherwise, hopes for effective treatment, if not, a cure, will remain unfulfilled.