01.12.2016 | original article | Ausgabe 6/2016 Open Access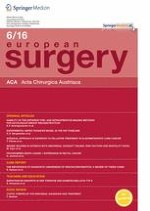 Programmed death-ligand 1 expression in rectal cancer
Zeitschrift:
Autoren:

G. Jomrich, G. R. Silberhumer, B. Marian, A. Beer, L. Müllauer
Summary
Background
Colorectal cancer (CRC) is the fourth most common cause of death worldwide. Approximately 30 % of all CRC occurs in the rectum. Improvements in survival rates were achieved thanks to multimodal therapy, combining surgery and chemoradiation. Nevertheless, the prognosis of patients suffering from rectal cancer (RC) remains poor. Programmed cell death protein 1 (PD-1) and its ligand programmed death ligand 1 (PD-L1) regulate tumor immune response. The aim of this study was to analyze the expression of PD-L1 in RC pre- and post-neoadjuvant therapy and evaluate PD-L1 as a biomarker and potential target for therapy.
Methods
In all, 29 patients with RC treated at the Medical University Vienna who received preoperative chemoradiation were retrospectively enrolled in this study. Expression of PD-L1 was investigated by immunohistochemistry with two different anti-PD-L1 antibodies.
Results
No PD-L1 expression on cancer cells could be observed in all 29 cases in the specimens before chemoradiation as well as in the surgical specimens after neoadjuvant therapy. In one of the two staining methods performed, five (17.24 %) post-chemoradiation cases showed faint lymphohistiocytic staining.
Conclusion
No expression of PD-L1 in RC cells before and after chemoradiation was found in our collective of 29 patients. Further investigations to evaluate the role of PD-L1 as a potential therapeutic target in RC are urgently needed.