01.04.2017 | original article | Ausgabe 2/2017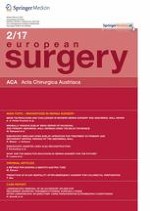 Prediction of 30-day mortality after emergency surgery for colorectal perforation
Validation of the Portsmouth and colorectal physiologic and operative severity scoring systems for the enumeration of mortality and morbidity (P-POSSUM and Cr-POSSUM)
Zeitschrift:
Autoren:

Tomoyuki Abe, Ken Shirabe, Norifumi Harimoto, Tomonobu Gion, Takashi Nagaie, Kiyoshi Kajiyama
Summary
Background
We aimed to validate the use of two physiologic and operative severity scoring systems for the enumeration of mortality and morbidity (Portsmouth, P‑POSSUM; colorectal, Cr-POSSUM) for the prediction of 30-day mortality after emergency surgery for colorectal perforation.
Methods
We retrospectively reviewed the records of a consecutive series of patients who had undergone emergency surgery for colorectal perforation between April 2001 and July 2007 at our hospital. The study population was stratified into two groups according to whether the patients survived longer than 30 days postoperatively or died within 30 days of surgery. Two scoring systems (P-POSSUM and Cr-POSSUM) were used to predict mortality risk in each patient based on patient- and disease-related risk factors. The prediction capability for each scoring system was calculated based on the area under the receiver-operator characteristic curve.
Results
The 30-day mortality rate was 12% (8/66 patients). Significant differences between patients who died within 30 days postoperatively and those who survived were noted regarding age, but not regarding comorbidities or preoperative laboratory data. Patient-related factors, rather than surgical factors, had a significantly greater influence on postoperative outcomes (
p
= 0.025), but the operative severity score did not contribute significantly. The P‑POSSUM score was a significant predictor of 30-day mortality (
p
= 0.0075).
Conclusions
Our findings demonstrate that P‑POSSUM and Cr-POSSUM can both be used to predict mortality after emergency surgery for colorectal perforation. While not explicitly developed for colorectal surgery, P‑POSSUM represents a promising tool for monitoring outcomes after emergency surgery for colorectal perforation.