21.01.2020 | Intensivmedizin | Ausgabe 1/2020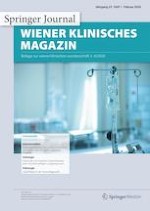 Präkonditionierung von Lunge und Kreislauf vor viszeral- oder thoraxchirurgischen Eingriffen
Zeitschrift:
Autoren:

Dr. Thorben Möller, Prof. Dr. Thomas Becker, Prof. Dr. Jan-Hendrik Egberts
Zusammenfassung
Hintergrund
Die Einschätzung des perioperativen Risikos spielt insbesondere in Anbetracht des demographischen Wandels eine entscheidende Rolle in der chirurgischen Indikationsstellung. Auch vor diesem Hintergrund sind heute Prähabilitationskonzepte zur Senkung des postoperativen Risikos zunehmend von Bedeutung.
Ziel der Arbeit
Darstellung der aktuellen Empfehlungen zur präoperativen Diagnostik bei thoraxchirurgischen Eingriffen sowie Prähabilitationskonzepte und deren praktischer Anwendbarkeit.
Material und Methoden
Es erfolgte eine selektive Literaturübersicht durch Recherche in den elektronischen Datenbanken PubMed, Cochrane Library und ISRCTN sowie in den aktuellen Leitlinien des American College of Chest Physicians (ACCP) und der European Society of Thoracic Surgery (ESTS).
Ergebnisse
Die Präkonditionierung umfasst die konservative Therapie von Grunderkrankungen, Rauchentwöhnung und Prähabilitation. Prähabilitation ist ein immer weiter in den klinischen Alltag drängendes Konzept, wenngleich die Evidenzlage aufgrund sehr heterogener Studienlage nur eingeschränkt vorhanden ist. Insgesamt gibt es jedoch die Tendenz zu positiven Effekten auf Lebensqualität und postoperative Komplikationen sowie Rekonvaleszenz.
Diskussion
Neben der präoperativen Diagnostik zur Einschätzung des perioperativen Risikos ist auch eine effektive Präkonditionierung der Patienten erforderlich. Hierzu ist ein interdisziplinärer Ansatz unter Einbezug von Anästhesie, Pneumologie, Psychotherapie und Physiotherapie notwendig. Neben der konservativ-medikamentösen Optimierung gewinnen Prähabilitationskonzepte an Bedeutung und werden sich sicherlich im klinischen Alltag etablieren. Von chirurgischer Seite dienen minimal-invasive Zugänge und parenchymsparende Resektionen ebenfalls der Risikoreduktion.