Erschienen in: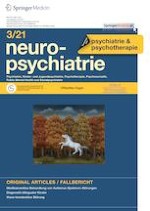 Open Access 23.06.2021 | review
Practitioner's review: medication for children and adolescents with autism spectrum disorder (ASD) and comorbid conditions
Erschienen in: neuropsychiatrie | Ausgabe 3/2021
Abstract
Alleviating the multiple problems of children with autism spectrum disorder (ASD) and its comorbid conditions presents major challenges for the affected children, parents, and therapists. Because of a complex psychopathology, structured therapy and parent training are not always sufficient, especially for those patients with intellectual disability (ID) and multiple comorbidities. Moreover, structured therapy is not available for a large number of patients, and pharmacological support is often needed, especially in those children with additional attention deficit/hyperactivity and oppositional defiant, conduct, and sleep disorders.
Publisher's Note
Springer Nature remains neutral with regard to jurisdictional claims in published maps and institutional affiliations.
Introduction
Methods
We searched the database PubMed/Medline for the following terms: autism AND pharmacotherapy OR medication, and retrieved 4.248 citations. Restricting the period covered to the years 2000–2019 and the language to English OR French OR German; 3.607 citations remained, including 1120 reviews. Selecting relevant titles, primarily taking into account the contents and quality of the papers, and secondarily the authors, publication media (impact factor), and date (selecting newer references), 223 remained. These were carefully studied in detail and supplemented by 742 additional relevant articles retrieved by specific topic searches that were considered important for understanding during the writing process. This added to 965 references of which 325 were cited in this article, depending on their subjectively estimated significance
5
, and aiming at not overloading the chapter with citations (see Fig.
1
). The relationship between reviews and meta-analyses and original papers in the cited references was
\(1:3\)
.
×
Pharmacotherapy of ASD
In the following, we will discuss the various groups of pharmaceuticals used in children and adolescents with ASD, namely antipsychotics, antidepressants, and anticonvulsants.
Discussion
Pharmacotherapy in children and adolescents with ASD may be helpful in overcoming otherwise not resolvable behavioral and attentional problems (see Table
2
for an overview of indications and classes of useful substances). Individualized treatment is always mandatory, Reviewing the extensive literature on pharmacotherapy of ASD, a few trends may be recognized:
1.
Conventional therapy, although mostly funded on extensive controlled studies, has its limits, especially when treating irritability and temper tantrums. These problems should be restricted by early behavioral treatment. Unfortunately, these treatments are tedious and not available everywhere. In addition, the question of the impact of comorbid conditions has not been solved as yet.
2.
Pharmacologic treatments are not sufficient; the primary ASD treatment, especially for children with intellectual disabilities, will remain structured and functional therapy, as well as parental empowerment and support.
3.
Therapies aiming at improving the core symptoms of ASD, such as social communication: novel therapies, e.g., oxytocin, are encumbered with the complex functioning of our social brain, which is outlined in the first days of life or even before.
4.
At present, genetically based therapies are not visible on the horizon, mostly because the genetic background of ASD is so complex that it will probably need further years of intensive research to link clinical pictures to genetic variants and establish repair options.
Behavioral problems, including irritability, reactive and proactive aggression, disruptive and self-stimulating behavior, restlessness, and temper tantrums, are among the most important therapeutic targets in children with ASD. Because of their very limited flexibility [
102
] and working memory problems [
117
], children with ASD easily become despaired and helpless and express this in externalizing behavior that can become difficult to control. Pharmacologic treatment, mostly using antipsychotics, must find a compromise between behavioral control, oversedation, and (mostly metabolic) side effects.
Depressed mood and anxiety disorders call for psychotherapy and, in selected patients, for treatment with antidepressants. The problems with antidepressant medication are its reduced efficacy in autistic vs. normally developing children (see Sect. 3.2), and, again, walking the tightrope between brightening mood or reducing anxiety or obsessions and compulsions and an increased behavioral activation.
Sleep problems are observed in a majority of patients with ASD. Sleep hygiene and bedtime routines should be tried before trying medication, and sleep-related side effects of stimulant therapy should also be considered as a promoting factor of sleep dysfunction. Melatonin is the first-line drug, especially for difficulties in falling asleep. It is effective in about two-thirds and counterbalances inherited melatonin dysfunction. It should be noted that falling asleep with lights on (especially from computer or mobile phone screens) counteracts the action of melatonin medication.
Treatment of ADHD, one of the most prominent comorbid conditions of ASD with overlapping symptoms, is often a key factor in enabling social and intellectual learning, school attendance, and fighting restlessness and impulsivity. Problems are related to the reduced efficacy of pharmacotherapy compared to normotypic patients and a multitude of interacting problems, e.g., bipolar disorder and ADHD.
Convulsions, most frequently observed in children with ASD and ID, should be treated like in normally developing children (see Sect. 3.2.1). Attention should be paid to sedation, metabolic, learning inhibition side effects, and, and in adolescents, to teratogenic side effects for the offspring.
The rediscovery of the gut–brain axis is a relatively new field of research and might, therefore, be overestimated by parents. More prospective studies will shed light on the effects of dietary and probiotic measures. Alternative treatments are comprehensively largely overestimated for their effects, ranging from dietary to physical and possibly endangering measures. Because alternative "medications" are not controlled for their action in prospective randomized trials, it is difficult to argue against the use of such substances in the general public, mostly because "natural" substances are considered harmless and innocuous (see Sect. 3.4).
In summary, we compiled an overview on substances that may be advantageously used in children with ASD with the aim of improving social behavior, learning ability, and quality of life of the children and their environment. The approach is rather defensive, mostly targeting undesired symptoms. Future work and experience should focus on desired changes of core symptoms, on long-term efficacy, on reducing polypragmasia and undesired drug effects, and on avoiding overtreatment, especially if behavioral therapies are available as an alternative. On the other hand, the benefits of carefully prescribed medication should always be recognized.
Conflict of Interest
The authors state that no author has a conflict of interest to declare.
Open Access
This article is licensed under a Creative Commons Attribution 4.0 International License, which permits use, sharing, adaptation, distribution and reproduction in any medium or format, as long as you give appropriate credit to the original author(s) and the source, provide a link to the Creative Commons licence, and indicate if changes were made. The images or other third party material in this article are included in the article's Creative Commons licence, unless indicated otherwise in a credit line to the material. If material is not included in the article's Creative Commons licence and your intended use is not permitted by statutory regulation or exceeds the permitted use, you will need to obtain permission directly from the copyright holder. To view a copy of this licence, visit
http://​creativecommons.​org/​licenses/​by/​4.​0/​
.
Publisher's Note
Springer Nature remains neutral with regard to jurisdictional claims in published maps and institutional affiliations.