01.04.2015 | short review | Ausgabe 1/2015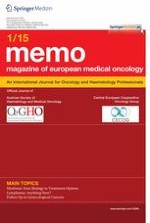 PET in lymphoma: who, when, how often, pitfalls?
Zeitschrift:
Autor:

MD Christian Uprimny
Abstract
For optimal therapy management in patients with lymphoma, sensitive and specific imaging modalities for accurate initial staging and evaluation of response to therapy are crucial. Fluorine-18-fluorodeoxyglucose positron emission tomography/computed tomography (18F-FDG PET/CT) that combines metabolic information of 18F-FDG PET with morphological information of diagnostic CT has proven to be a very useful tool in the work-up of lymphomas. Especially in 18F-FDG-avid tumours like Hodgkin lymphoma and high-grade, aggressive non-Hodgkin lymphoma, 18F-FDG PET/CT is widely used for pre-treatment staging and response evaluation after completion of therapy with convincing evidence that it is more accurate than conventional imaging modalities. Although 18F-FDG PET/CT is also applied in other subtypes of lymphoma and in other clinical indications such as early response assessment, its benefit in these settings remains controversial. This review is intended to highlight the accepted clinical applications for 18F-FDG PET/CT in lymphoma, delivering a short clinical guideline when it is recommended to perform 18F-FDG PET/CT in a patient with lymphoma.