01.09.2015 | case report | Ausgabe 4/2015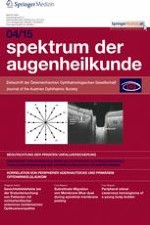 Peripheral retinal cavernous hemangioma of a young body-builder: a case report
Zeitschrift:
Autor:

MD, PhD Miklos Schneider
Summary
Background
Retinal cavernous hemangiomas are rare, benign, usually unilateral hamartomas. Retinal features have been extensively studied previously. The exact pathogenesis of this disease is still unknown, and there are no reports that suggest hormonal associations.
We describe a case of retinal cavernous hemangioma of a young body-builder who had taken anabolic steroids.
Case presentation
A 32-year-old healthy man was examined. In his previously active body-builder career, he had taken an unknown dose of anabolic steroids for an unknown duration. The patient presented with best-corrected visual acuity of 20/20 on both eyes. Fundus examination of the right eye revealed a 4–5 optic disc diameter-sized thickened and folded retina at the mid-periphery. The lesion exhibited dilated vessels, numerous saccular aneurisms, dot-shaped intraretinal hemorrhages, and fibrosis. Fluorescein angiography showed delayed arterial filling, capillary dropout, and aneurismal changes with hyperfluorescence of the upper portion of the saccules with blockage in the inferior portion from the sedimented blood cells.
After summarizing the findings, the diagnosis of cavernous hemangioma was made.
Conclusion
Steroid intake was the sole potential contributing factor to the disease in our patient's medical history. Not excluding the possibility that this might be a coincidental finding, this potential link might need further investigations.