01.03.2017 | original article | Ausgabe 5-6/2017 Open Access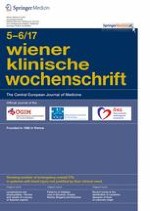 Patterns of diabetes care in Slovenia, Croatia, Serbia, Bulgaria and Romania
An observational, non-interventional, cross-sectional study
Zeitschrift:
Autoren:

M.D. Prim. Assist. Miro Cokolic, Nebojsa M Lalic, Dragan Micic, Gorana Mirosevic, Sanja Klobucar Majanovic, Ivaylo N Lefterov, Mariana Graur
Wichtige Hinweise
Author's contributions
All authors were involved in the interpretation of the analyses. All authors were involved in critical revision of the manuscript for important intellectual content. All authors approved the final manuscript.
Summary
Background
National guidelines for treating type 2 diabetes in the Balkans generally follow European guidelines. The current study was undertaken to estimate the rate of glycated hemoglobin (HbA1c) measurements and level of HbA1c control in diabetic patients treated in regular clinical practice settings in the Balkans and to evaluate if providing HbA1c measurements improves adherence to treatment guidelines.
Methods
This cross-sectional study enrolled type 2 diabetic patients treated by 79 primary care physicians and 102 specialists. The participants were provided with HbA1c measuring devices to measure HbA1c during regular office visits and a physician survey evaluated HbA1c the results feedback. Relevant clinical, demographic, drug treatment and specialist referral data were extracted from patient charts. Descriptive statistics and stepwise multivariate regression analysis were used.
Results
Among 1853 patients included (average age 63.5 ± 10.7 years, 51% male) the average diabetes duration was 8.9 ± 7.1 years, 40% of patients had HbA1c measured every 6 months and 34% every 12 months (or less frequently). The rate of 6‑month measurement was higher among specialists (43%) vs. primary care physicians (32%,
p
< 0.01). The average HbA1c was 7.3 ± 1.5 and 35% of patients achieved the target HbA1c level of < 6.5%. Metformin monotherapy was prescribed to 28% of patients and metformin + sulphonylurea to 23%, 55% of patients on metformin monotherapy and 32% of patients on dual therapy metformin + sulphonylurea achieved the target HbA1c < 6.5%. Treatment remained unchanged in 91% and was stepped up in only 7.2% of patients. Physicians were not surprised (in 79% of patients) or were pleasantly surprised (in 11%) by the HbA1c results at the time of visit. Average diabetes duration and patient use of home glucometers were associated with the level of disease control.
Conclusions
The rates of HbA1c measurements remain low in the Balkans, although higher among specialists. Over 60% of patients, mostly treated with traditional oral antidiabetics did not achieve disease control. Providing convenient HbA1c measurement devices was not associated with a marked change in diabetes management. Future research is needed to evaluate the impact of these treatment patterns on long-term outcomes and costs to society.