09.01.2020 | Pädiatrie | Originalien | Ausgabe 1/2020 Open Access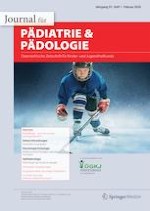 Medikamentöse Therapie vaskulärer Anomalien
Zeitschrift:
Autoren:

Univ.-Prof. Dr. Martin Benesch, Univ.-Prof. Dr. Herwig Lackner, Univ.-Prof. Dr. Erich Sorantin, PD Dr. Emir Haxhija, OA Dr. Paulo Gasparella, PD Dr. Andreas Pfleger
Wichtige Hinweise
Hinweis des Verlags
Der Verlag bleibt in Hinblick auf geografische Zuordnungen und Gebietsbezeichnungen in veröffentlichten Karten und Institutsadressen neutral.
Zusammenfassung
Vaskuläre Anomalien werden nach der Klassifikation der International Society for the Study of Vascular Anomalies in vaskuläre Tumoren, die als häufigste Entitäten kaposiforme Hämangioendotheliome und Hämangiome umfassen, und vaskuläre Malformationen unterteilt. Die Behandlung vaskulärer Anomalien erfolgt interdisziplinär und basiert, abhängig von der Entität auf Resektion, Sklero‑/Kryotherapie, Embolisation und medikamentöser (antiangiogenetischer und/oder zytostatischer) Therapie. Eine komplette Entfernung ist aufgrund von Ausdehnung und meist diffus infiltrativem Wachstum nur in sehr wenigen Fällen möglich. Seit der Erstbeschreibung der Wirksamkeit in dieser Indikation 2008 gilt Propranolol als etablierte Erstlinienbehandlung für komplizierte infantile Hämangiome. Sirolimus ist ein in der Organtransplantation verbreitet eingesetztes Immunsuppressivum, das den Mammalian/mechanistic-target-of-rapamycin(mTOR)-Signalübertragungsweg inhibiert, auch antiangiogenetisch wirksam ist und daher zunehmend für die Behandlung von vaskulären Tumoren und Malformationen eingesetzt wird. Drei Säuglinge mit vaskulären Anomalien (kaposiformes Hämangioendotheliom, gemischt makro‑/mikrozystische lymphatische Malformation, diffuses infantiles Leberhämangiom) erhielten eine Propranolol‑/Sirolimus-basierte medikamentöse Therapie, ohne klinisch relevante Nebenwirkungen entwickelt zu haben. Obwohl die Verträglichkeit von Propranolol und Sirolimus meist ausgezeichnet ist, erfordern schwere, mitunter lebensbedrohliche Nebenwirkungen (Propranolol: kardiovaskulär; Sirolimus: infektiös), die in Einzelfällen berichtet sind, besondere Beachtung.