25.07.2019 | Onkologie und Hämatologie | short review | Ausgabe 3/2019 Open Access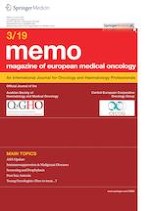 Post San Antonio Breast Cancer Symposium 2018
Local and operative therapy, radiotherapy
Zeitschrift:
Autor:

F.E.B.S. PD Dr. Ruth Exner
Wichtige Hinweise
Publisher's Note
Springer Nature remains neutral with regard to jurisdictional claims in published maps and institutional affiliations.
Summary
This short review summarizes the most important facts presented at the San Antonio Breast Cancer Symposium 2018 concerning local therapy of breast cancer, including breast and lymph node surgery as well as radiotherapy. Despite the increasing use of neoadjuvant chemotherapy (nCHT) and consequently higher response and pathologic complete response (pCR) rates in the past years, breast-conserving surgery (BCS) has not increased. This is not only due to positive genetic testing, but it is mostly based on patients' preference. On the other hand, quality of life seems to be better in young patients undergoing BCS regarding satisfaction with breasts and sexual and psychosocial well-being. Thus, surgical decision-making is crucial in young women with breast cancer and long-term quality of life aspects have to be taken into account. The safe performance of sentinel lymph node biopsy in N+ patients with or without neoadjuvant therapy is the current focus of several large randomized controlled trials. In San Antonio, new data about the impact of micro-metastases or extracapsular extension were presented. The 10-year follow-up data from the AMAROS study demonstrated similar axillary recurrence rates in patients with positive sentinel nodes undergoing complete axillary dissection or radiotherapy only. The RAPID study showed that in patients with unifocal small DCIS (Ductal carcinoma in situ) or invasive cancer <3 cm, accelerated partial breast irradiation with three-dimensional conformal radiotherapy was not inferior compared to whole breast irradiation regarding ipsilateral recurrence rate, but the regimen has to be adapted to achieve similar cosmetic results.