12.07.2018 | original article | Ausgabe 1-2/2019 Open Access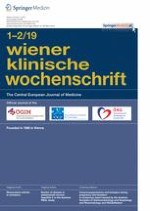 Official definitions for undesirable medical events
Are they correctly applied in medicine?
Zeitschrift:
Autoren:

MD Christian Smolle, PD Mag. Dr. Gerald Sendlhofer, MD Janos Cambiaso-Daniel, MS Michaela Sljivich, Prof. Herwig Friedl, Prof. Lars-Peter Kamolz, Prof Gernot Brunner
Summary
Background
In Austria, elaborate definitions exist for the undesirable medical events side effect, adverse event, complication and medical malpractice. We aimed at investigating whether the official definitions for the abovementioned terms can be understood by a sample population representing a cross-section of the Austrian population.
Methods
In this study 1021 Austrian citizens were interviewed. Demographic parameters (age, gender, occupation, level of education, monthly income, number of inhabitants at place of residence) were assessed. Participants were told the official definitions for complication, side effect, adverse event and medical malpractice and asked to select the correct definition for "complication". The impact of sample characteristics on the ability to identify the correct definition was investigated.
Results
Of the participants 315 (31%) identified the correct definition of a complication. Almost the same number (
n
 = 302, 30%; χ
2
for single samples:
p
 = 0.087) falsely selected the definition for side effect. Significantly fewer (both
p
 < 0.001) chose the definitions for adverse event (
n
 = 220, 22%) and medical malpractice (
n
 = 155, 15%). Only the respective state of origin showed significant influence on the probability of choosing the correct definition out of the four. The probability was highest in Vorarlberg (0.400) and lowest in Upper Austria (0.216,
p
 < 0.001).
Conclusion
For the majority the present official definitions for undesirable medical events are too complex to understand. Simple definitions for undesirable medical events should be included into patient education.